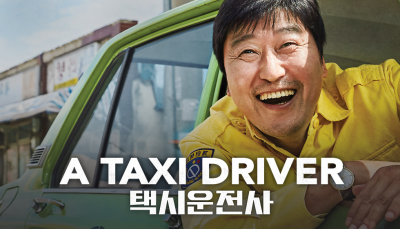 "You Should "See" Taxi Driver(2017) …  No, not Robert De Niro and Jodie Foster, the new South Korean one…
Lost in the barrage of news surrounding North Korean nuclear ambitions and Singapore dreams is the astonishing current history of South Korea. Throughout 2016-2017, hundreds of thousands of South Koreans marched in downtown Seoul leading to the rare—if not unprecedented—peaceful and democratic overthrow of a democratically elected national leader. Immediately coined, "The Candlelight Revolution"because protestors armed themselves only with small flames, a central demand was the government's ongoing accountability for the country's dictatorship era (1953-1993). Gone are the secret jails and "disappeared" family members. Throughout the past twenty-five years, South Koreans have transformed their society into a vibrant democracy with regular elections and the right to challenge government openly. Up for grabs now is writing the history that came before, and central in the mix is the 1980 Gwangju uprising during which South Korean troops slaughtered several hundred largely unarmed citizens who were demanding the release from jail of the prominent pro-democracy politician, Kim Dae-jung.
Last summer, acclaimed director Jang Hoon released Taxi Driver, starring South Korea's George Clooney, Song Kong-ho, in a fictionalized work-up of a real-life cab driver who ferried German journalist, Jurgen Hintzpeter, to the center of the violence as it unfolded in Gwangju. Hintzpeter's smuggled footage of South Korean soldiers shooting innocent students caused an international sensation and ultimately led South Korean President Chun Doo-hwan to reign in the massacre. More violence would come until his overthrow in 1987, and the real cab driver never surfaced despite Hintzpeter subsequent efforts to find him.
In the whorl of today's debate about North Korea, Taxi Driver underscores why it is essential to include South Korea as an equal in any discussion concerning Korea's collective future. "
-Alexis Dudden
Professor of History
University of Connecticut
Photo Source: SydneysBuzz The Blog
---