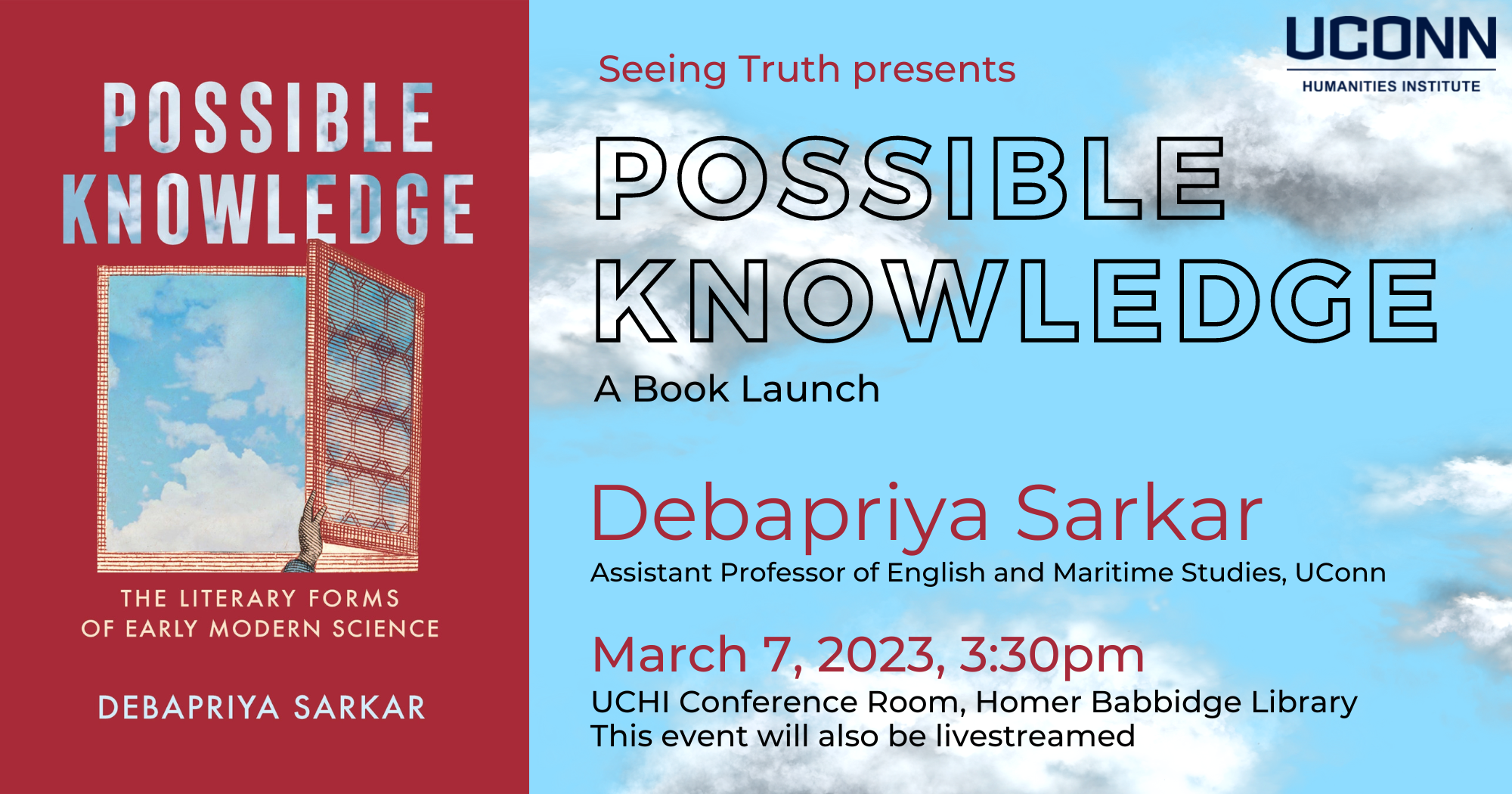 This event will include automated captioning. If you require accommodation to attend this event, please contact us at uchi@uconn.edu or by phone (860) 486-9057. We can request ASL interpreting, computer-assisted real time transcription, and other accommodations offered by the Center for Students with Disabilities.
Seeing Truth presents:
Possible Knowledge
A book launch
with Debapriya Sarkar
March 7, 2022,  3:30pm
Humanities Institute Conference Room, Homer Babbidge Library, Fourth Floor

This event will also be livestreamed. Register to attend virtually
Debapriya Sarkar will discuss her new book, Possible Knowledge: The Literary Forms of Early Modern Science (Penn Press). Possible Knowledge offers a new account of literature's role in the intellectual history of early modernity, a period beset by uncertainty as older frameworks of knowledge were questioned, even upended. Showing how problems of epistemology are inextricable from questions of literary form, the book argues for early modern literature's significance as a vital philosophical endeavor. It theorizes "possible knowledge" as a distinct intellectual paradigm, exploring the imaginative habits of thought that enabled early modern thinkers—including Shakespeare, Milton, Sidney, Bacon, Spenser, and Cavendish—to grapple with the challenge of forging knowledge in an uncertain, perhaps even incomprehensible world. Enacting a history of ideas that centers literary studies, Possible Knowledge suggests that what we term a history of science might ultimately be a history of the imagination.
Debapriya Sarkar is Assistant Professor of English and Maritime Studies at UConn. Her research interests include early modern literature and culture, history and philosophy of science, environmental humanities, and literature and social justice. She has co-edited, with Jenny C. Mann, a special issue of Philological Quarterly called "Imagining Early Modern Scientific Forms" (2019). Her work appears or is forthcoming in English Literary Renaissance, Shakespeare Studies, Spenser Studies, Exemplaria, and in several edited collections. Her new book, Possible Knowledge: The Literary Forms of Early Modern Science, traces how literary writing helped to re-imagine the landscape of epistemic uncertainty at the time of the Scientific Revolution. She is the recipient of the Huntington's 2021–22 Fletcher Jones Foundation Fellowship.