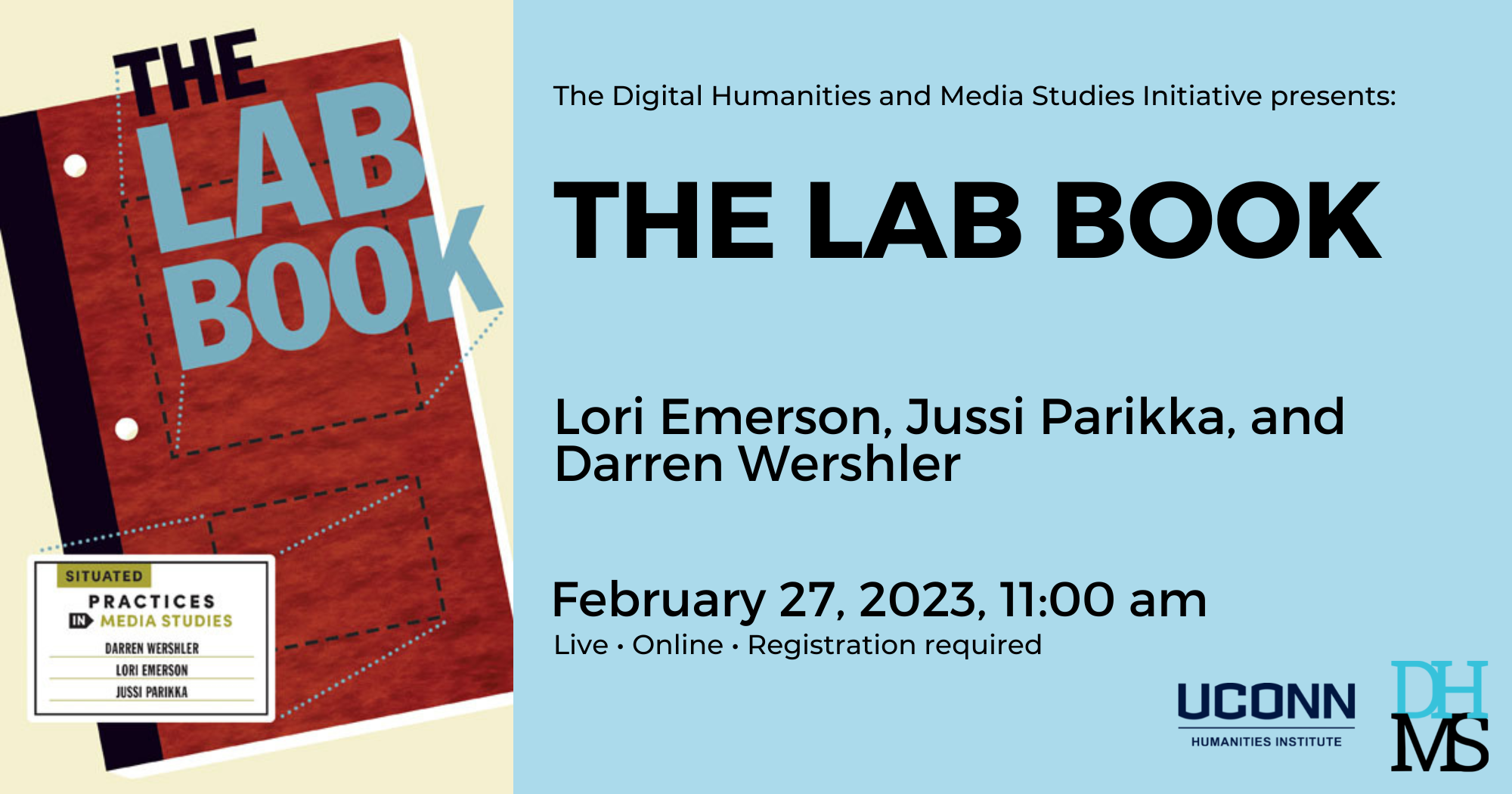 This event will include automated captioning. If you require accommodation to attend this event, please contact us at uchi@uconn.edu or by phone (860) 486-9057. We can request ASL interpreting, computer-assisted real time transcription, and other accommodations offered by the Center for Students with Disabilities.
The Digital Humanities and Media Studies Initiative presents:
The Lab Book
with Lori Emerson, Jussi Parikka, and Darren Wershler
February 27, 2022, 11:00am
Live. Online. Registration required.
In this talk, we will discuss our recently published The Lab Book: Situated Practices in Media Studies, offering insights into how the book emerged and how it resonates with contemporary developments regarding "labs." While our focus is on media and humanities labs, we expand the discussion to the broader field of research in STS on laboratories as sites of knowledge production which, however, are also thoroughly embedded in questions of imaginaries, politics of infrastructure, as well as social relations and power. Our book uses historical and contemporary case studies to discuss changes in how academic and non-academic practices are conceived and what sorts of techniques sustain the spaces we come to call "labs." As we acknowledge in the book, "the first difficulty in talking about labs with any precision is that the metaphor of the lab has permeated contemporary culture to the degree that it can apply to just about anything." With this starting point, we outline what we call the hybrid lab—a particular kind of a constellation that also applies to historical examples: labs have always already been hybrids.
Lori Emerson is Associate Professor in the English Department and the Intermedia Arts, Writing, and Performance Program (IAWP). She is also Director of IAWP and the Media Archaeology Lab. Emerson is co-author of THE LAB BOOK: Situated Practices in Media Studies (University of Minnesota Press 2022) with Darren Wershler and Jussi Parikka, author of Reading Writing Interfaces: From the Digital to the Bookbound (University of Minnesota Press June 2014), and editor of numerous collections.
Jussi Parikka is Professor in Digital Aesthetics and Culture at Aarhus University in Denmark. He is also visiting professor at Winchester School of Art and at the Academy of Performing Arts in Prague where he leads the project Operational Images and Visual Culture. His books include Insect Media (2010), Digital Contagions (2007/2016) and A Geology of Media (2015) Recently, he co-edited Photography Off the Scale (2021) and he is the co-author (with Lori Emerson and Darren Wershler) of The Lab Book: Situated Practices in Media Studies (2022). Jussi is also on the curatorial board of the next Helsinki Biennial as well as the curator (with Daphne Dragona) of Weather Engines (2022, 2023). http://jussiparikka.net.
Darren Wershler is Professor of English, Affiliate Professor of Communication Studies and Cinema and Acting Director of the Milieux Institute at Concordia. With Lori Emerson and Jussi Parikka, he is an author of THE LAB BOOK: Situated Practices in Media Studies (University of Minnesota Press, 2022).