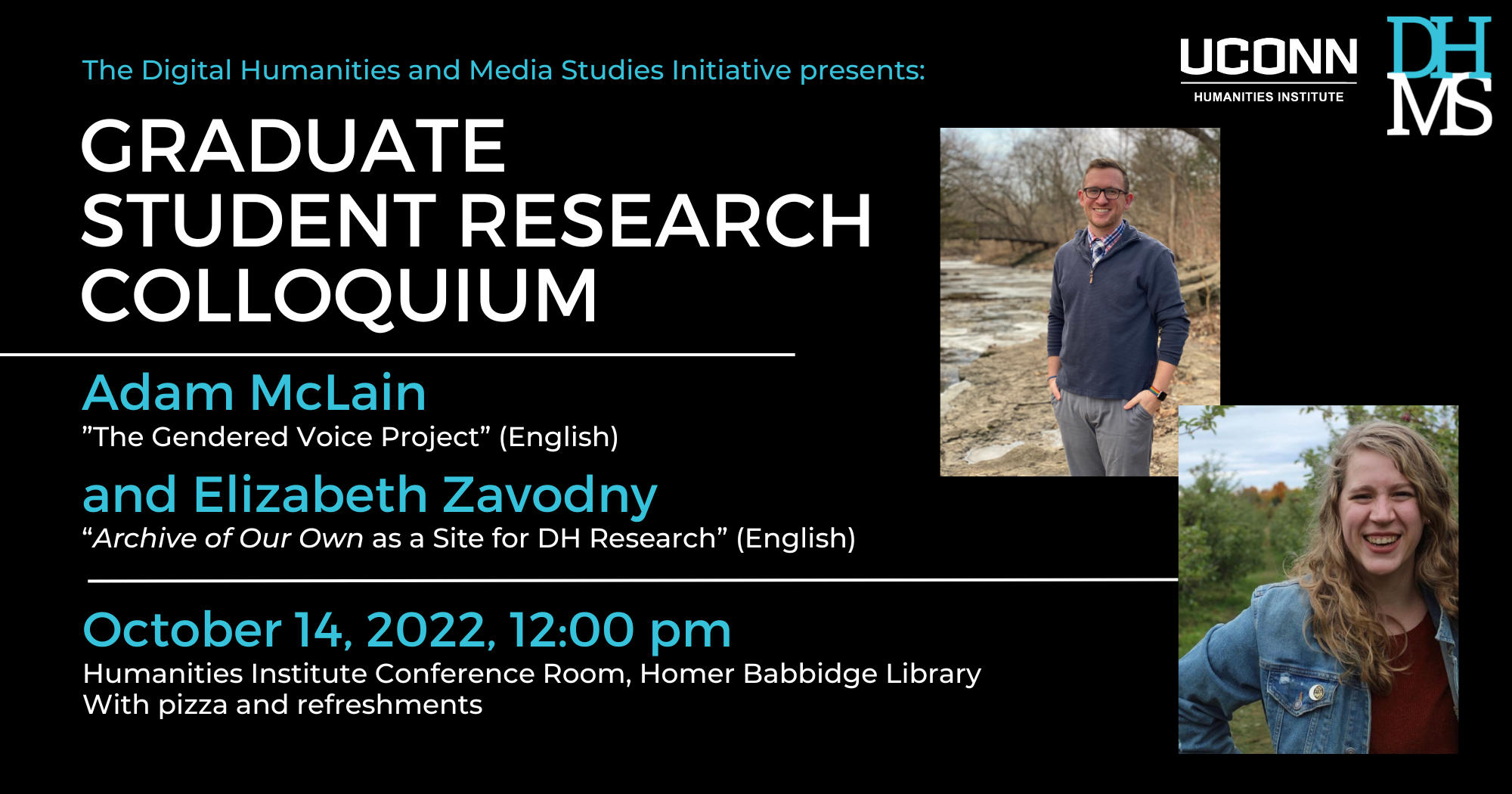 If you require accommodation to attend this event, please contact us at uchi@uconn.edu or by phone (860) 486-9057. We can request ASL interpreting, computer-assisted real time transcription, and other accommodations offered by the Center for Students with Disabilities.
The Digital Humanities and Media Studies Initiative presents:
Graduate Student Research Colloquium
Adam McLain and Elizabeth Zavodny
October 14, 2022, 12:00pm
Homer Babbidge Library, Humanities Institute Conference Room
With pizza and refreshments
"The Gendered Voice Project," Adam McLain
The "Gendered Voice Project" is a digital humanities project that seeks to graphically and statistically represent the various gendered voices in literature and academia. For the project, voice is defined in two ways: (1) the amount or rate of dialogue spoken within a book, if analyzing fiction; (2) the amount of pages or words written by scholars, if analyzing scholarship. This presentation is an introduction to the methodologies, theories, and prospects of the project, along with various analyses already performed.
Adam McLain is a MA/PhD student in English at the University of Connecticut. He researches and writes on dystopian literature, legal theory, and sexual justice. He has a bachelor's degree in English and women's studies from Brigham Young University and a masters of theological studies from Harvard University.
"Archive of Our Own as a Site for DH Research," Elizabeth Zavodny
I'll be giving an introduction to and contextualization of fanfiction and fan studies research, with a focus on one of the major fanfiction archives, Archive of Our Own. After giving an overview of how the archive is organized, in particular its unique user-generated tagging system, I'll present how I have used it for a few past projects on genre and commenting practices. I'll conclude with a brief discussion of some current ideas and questions that I'm currently refining and interested in receiving feedback and suggestions on.
Elizabeth Zavodny is a 3rd-year PhD student in the English department, with a concentration in Rhetoric and Composition. Her research focuses on the social networks of feedback and circulation in online writing communities, with a particular interest in fanfiction communities. Originally from Atlanta, Georgia, she has a BA from Berry College and an MA from the University of Maine. She currently lives in Willimantic with her partner and their two cats.