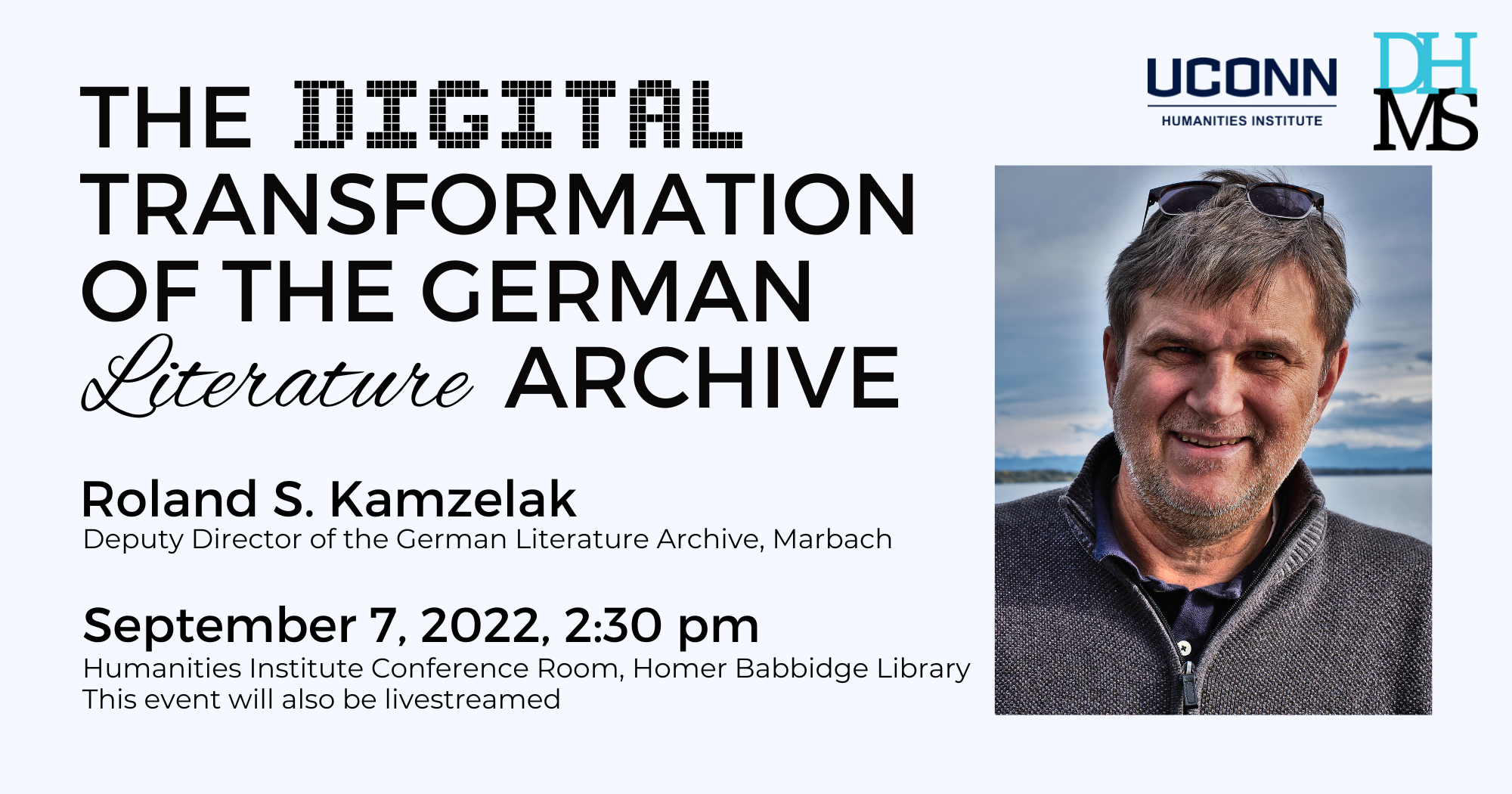 If you require accommodation to attend this event, please contact us at uchi@uconn.edu or by phone (860) 486-9057. We can request ASL interpreting, computer-assisted real time transcription, and other accommodations offered by the Center for Students with Disabilities.
The Digital Humanities and Media Studies Initiative presents:
The Digital Transformation of the German Literature Archive
Prof. Dr. Roland S. Kamzelak
September 7, 2022, 2:30pm
Homer Babbidge Library, Humanities Institute Conference Room
Add to Google calendar Add to Office 365 calendar Add to other calendar
This event will also be livestreamed with automated captioning. Register to attend virtually.
The talk will introduce the German Literature Archive in Marbach am Neckar with its important holdings, its challenges and plans for transformation into a digital archive. A focus will be on its growing portal for scholarly editions and the development of a Science Data Center for Literature (SDC4Lit). The role and use of DH methodology and tools will play an important role in the transformation.
Prof. Dr. Roland S. Kamzelak was born 1961 in Subiaco (Perth), Australia. Visited schools in Tettnang, Rockville, Maryland (Highschool Diploma 1980), Friedrichshafen (Abitur 1982) and studied Political Sciences, English and German Studies at the University of Tübingen and the University of Queensland, Brisbane, Australia; 1994 Staatsexamen (M. A.); 2004 Ph. D. at the University of Tübingen with "E-Editionen. Zur neuen Praxis der Editionsphilologie. Ida und Richard Dehmel – Harry Graf Kessler. Briefwechsel 1898-1935." – 1994 – 1999 Academic Assistant at the German Literature Archive Marbach for the edition project Harry Graf Kessler; 1999 – 2000 Cultural Consultant for the Wüstenrot Foundation, Ludwigsburg; since 2000 Head of Development and Deputy Director of the German Literature Archive Marbach with focus on academic editing and digital humanities. – 1996-2013 Visiting lecturer for German Literature at the University of Education Ludwigsburg, since 2010 Visiting Lecturer for Digital Humanities at the University of Würzburg, since 2018 professor; other visiting lectorates at the Institute for Cultural Management, PH Ludwigsburg, at the Universities of Stuttgart (German Literature), Darmstadt (Digital Humanities) und Schwäbisch Gmünd (Angloamerican Literatures).
This event is cosponsored by Greenhouse Studios.
---