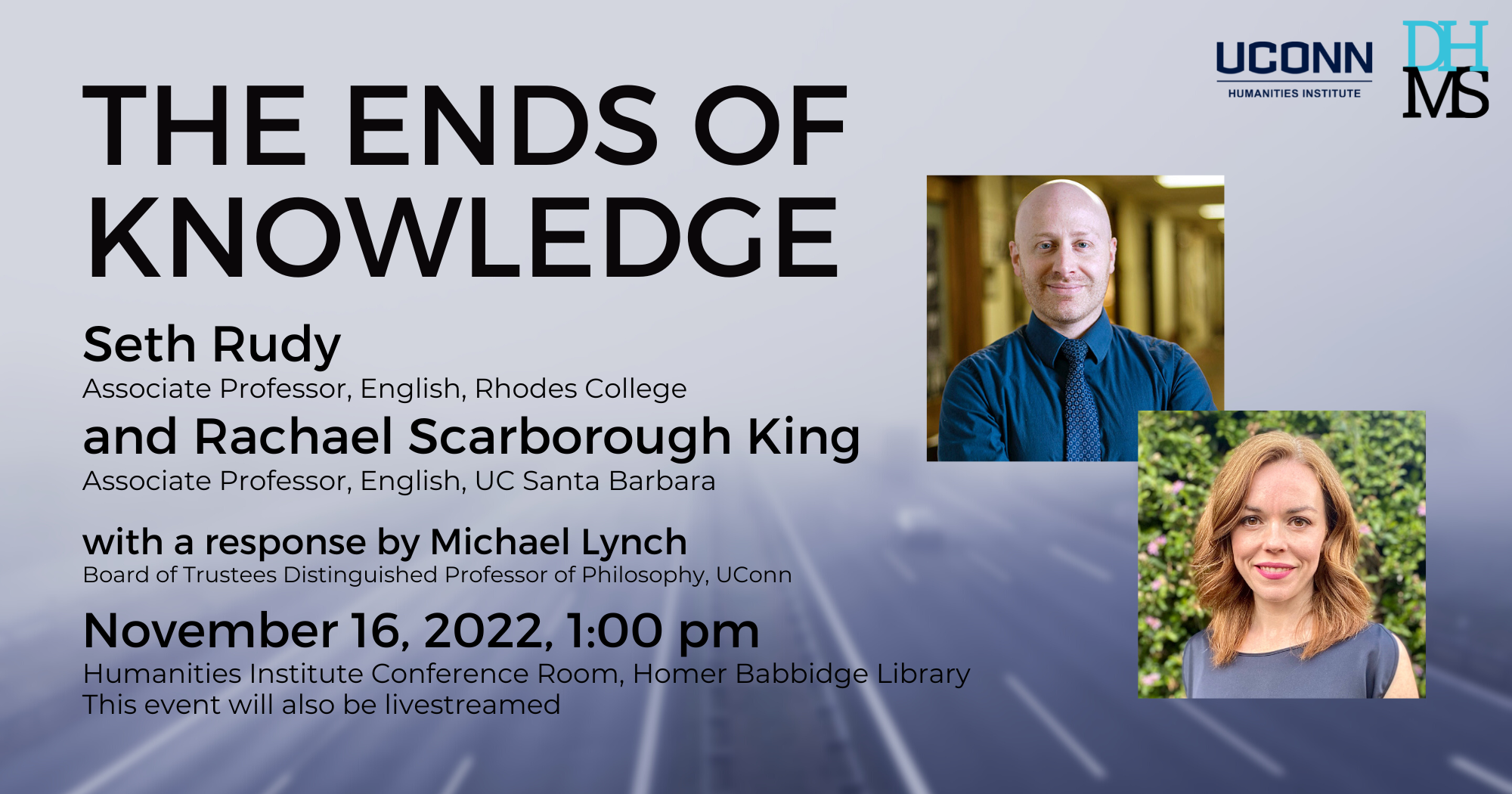 If you require accommodation to attend this event, please contact us at uchi@uconn.edu or by phone (860) 486-9057. We can request ASL interpreting, computer-assisted real time transcription, and other accommodations offered by the Center for Students with Disabilities.
The Digital Humanities and Media Studies Initiative presents:
The Ends of Knowledge
Rachael Scarborough King and Seth Rudy
November 16, 2022, 1:00pm
Homer Babbidge Library, Humanities Institute Conference Room
Add to Google calendar Add to Office 365 calendar Add to other calendar
This event will also be livestreamed with automated captioning. Register to attend virtually.
Toward interdisciplinary exchange, this event addresses the following questions: What would you say your discipline's goals are, when it comes to advancing knowledge? How are they like or unlike the "ends" of other disciplines? The speakers, Rachael Scarborough King (UC Santa Barbara) and Seth Rudy (Rhodes College) put such questions to a historian, a physicist, a literary scholar, a computer scientist, a biologist, a digital humanist, a legal scholar, a journalist, an AI researcher, an activist, as well as scholars working in gender studies, environmental studies, Black studies, cultural studies, and more. Each scholar wrote up an essay in response, and these are collected in the forthcoming volume, The Ends of Knowledge: Outcomes and Endpoints Across the Arts and Sciences (Bloomsbury).
UCHI Director, Michael Lynch, will be acting as respondent to the two speakers.
Rachael Scarborough King is Associate Professor of English at the University of California, Santa Barbara. She is the author of Writing to the World: Letters and the Origins of Modern Print Genres (2018) and editor of After Print: Eighteenth-Century Manuscript Cultures (2020). She is the Principal Investigator and Project Director for the Ballitore Project, an archives- and digital humanities-based research project.
Seth Rudy is Associate Professor of English at Rhodes College. He is the author of Literature and Encyclopedism in Enlightenment Britain: The Pursuit of Complete Knowledge (2014).
---