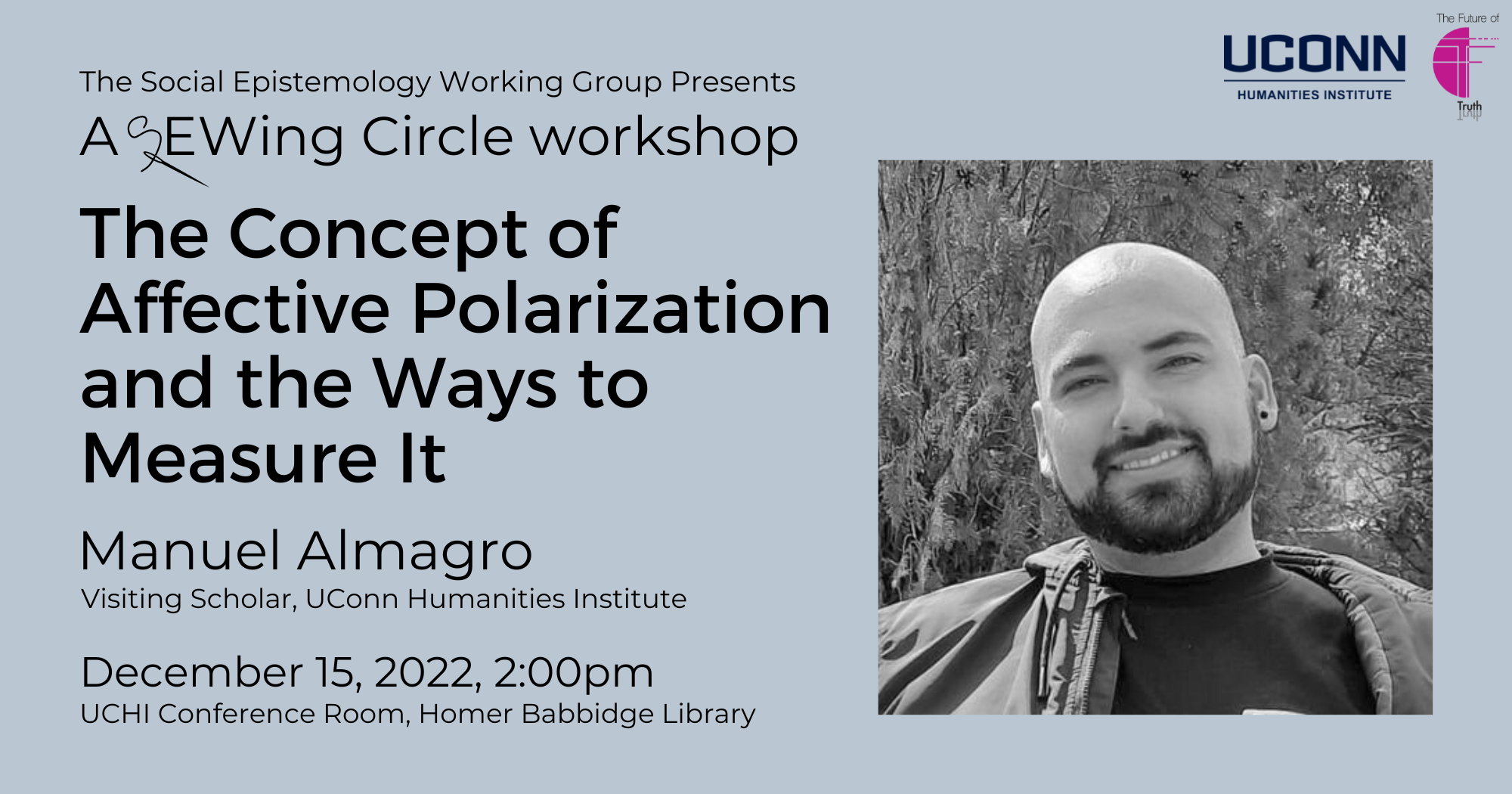 If you require accommodation to attend this event, please contact us at uchi@uconn.edu or by phone (860) 486-9057. We can request ASL interpreting, computer-assisted real time transcription, and other accommodations offered by the Center for Students with Disabilities.
The Social Epistemology Working Group presents:
A SEWing Circle Workshop
The Concept of Affective Polarization and the Ways to Measure It
Manuel Almagro
December 15, 2022, 2:00pm
Homer Babbidge Library, Humanities Institute Conference Room
This event will also be livestreamed with automated captioning. Register to attend virtually.
Affective polarization is usually defined as a tendency to dislike those from other party/parties while holding positive feelings toward the in-group, and it is usually measured by asking citizens if they have cold or warm feelings toward certain political leaders, political topics, or political parties. Thus, the claim "many contemporary democracies have become affectively polarized" usually means that their citizens have become more negative in their feelings toward the other party, moving from moderate levels of sympathy toward increasingly strong dislike. Here I will argue that feelings are just an element—possibly not the most relevant one—of the complex, multidimensional concept of affective polarization. I also review the main challenges the techniques to measure affective polarization face, and discuss the possible benefits of focusing on other dimensions of the concept in order to detect it at an early stage.
Manuel Almagro is a "Margarita Salas" postdoctoral fellow at the University of Granada (Spain), currently visiting the Humanities Institute at the University of Connecticut and working with Professor Michael P. Lynch. He will join the University of Valencia (Spain) in the summer of 2023 as a "Juan de la Cierva" postdoctoral fellow. He works on political epistemology, philosophy of language, and experimental philosophy. Most of his current research is focused on affective polarization and disagreement.