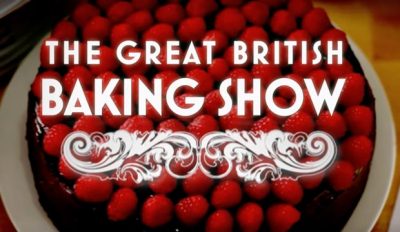 "I read a lot of contemporary fiction, and am a scholar of public opinion and American politics.   So this may sound odd, trivial and far afield, but one of my favorite cultural obsessions is the competitive baking contest, the Great British Baking Show (now in its 9th season — only 5 seasons are available on Netflix so far:   https://www.netflix.com/title/80063224).
Of all the books, movies and television I love, this is one show I've become particularly obsessive about.   I am a long-time baker, so it is fascinating from that standpoint of course:   Some of the very best amateur bakers in Britain display their mind-bindingly creative approaches to food, and have astounding technical talents as well.   The judges are brilliant and serious:   Choosing winners and losers is a grave business to these globally-renowned baker-judges, but they do indeed realize it is about food, so they maintain the proper (i.e. witty/dry/British) sense of humor, and a high level of self-awareness.
Putting aside the food, the reason I'm drawn to this program is its profound civility, so desperately missing from American reality television and broadcast competitions.   Perhaps it is the British manners, but I think it is far more than that.   The program is a model of how human beings need to treat each other, with dignity and empathy.   Contestants are a diverse lot with regard to class, age, profession, race and ethnicity.   They develop genuine respect for each other, and indulge in the joys of friendly competition, without the juvenile and often venal attitude promoted in American reality programs ("I'm here to win, not to make friends" is the most common contestant line of every show,  from The Bachelor to Survivor to Top Chef).
Aristotle famously wrote about friendship in Ethics as the real basis for a democratic polity, and you see a mini-civil society built before your eyes on the Great British Baking Show.   There is partnership, civility, and love among contestants and judges alike, all in the context of what is most basic to us:   the visceral joy of sharing great food.   What's not to like, in these times of a tribalistic, violent and divided America?    We'd be a better nation, and better friends and neighbors, if we'd kick back and watch a kind bunch of people demonstrate cooking-as-community with panache.   As Levi-Strauss noted, cooking is what turns nature into culture, and what a fine culture it is, somehow turned out in hour-long segments, along with many tarts, scones, biscuits and "saucy puds" (well, you'll have to tune in to understand that…).   Bon appetit!"
-Susan Herbst
President
University of Connecticut
Photo Credit: Netflix
---