Graphic novels have for some time become an important medium for expressing trouble and human suffering in the world. Growing up in the Netherlands I became familiar with graphic novels early on. We called them 'strips' or 'stripverhalen' ('verhalen' means 'stories'.) In the US, people for long called them 'comics.' I like reading (watching?) strips as a kid. There was a rich supply, none about superheros though. That started as an American genre in the 1930s. The strips that I read are largely unknown in the US, except for Tintin ('Kuifje'), Asterix, and the Smurfs perhaps. For long, all these graphic narratives were thought of as stuff for kids, and perhaps not even 'healthy' stuff; a poor substitute for reading 'real' books and setting young people up for violence. (That sounds familiar doesn't it…videogames…). Strips and comics are still a flourishing medium, but then appeared a more 'serious' genre, notoriously exemplified by Art Spiegelman's Maus and works by Will Eisner, both American writers who drew and wrote stories that are clearly not aimed at children, which somewhere lead to the term 'graphic novel.' Recently, I read The unwanted –Stories of the Syrian Refugees by Don Brown (2018), a 'documentary graphic novel.' The title speaks for itself. The drawings are really good, but it is of course the subject that 'draws' you in. Soon, there will be a graphic novel about hundreds of children being packed into 'detention centers' at the border, if there isn't one already.
– Harry van der Hulst
Professor of Linguistics
University of Connecticut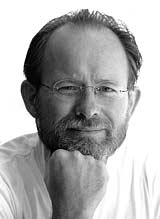 Who is Harry van der Hulst? Harry van der Hulst is a professor of linguistics and the director of undergraduate studies in the Department of Linguistics at the University of Connecticut. He received his Ph.D. from Leiden University in his native Netherlands, where he also taught linguistics before joining UConn linguistics faculty in 2000. He specializes in phonology, but has also conducted research in feature systems and segmental structure, syllable structure, word accent systems, vowel harmony, and sign language phonology, to name a few. Harry has been editor-in-chief of the international SSCI linguistics journal. He was a 2017–2018 UConn faculty fellow at the University of Connecticut Humanities Institute and he is also a Life Fellow of the Netherlands Institute for Advanced Study.
---