Winter holidays are arguably one of the best times of the year to get cozy with a book or three, free of the hullabaloo of the academic year. Our team at the University of Connecticut Humanities Institute (UCHI) has a list of book recommendations for your holiday reading needs. We got it all: old and new, fiction, and non-fiction, novel and memoir. So get yourself some comfy clothes, pour yourself a drink, find the nearest cushiony couch, and enjoy. Happy holidays!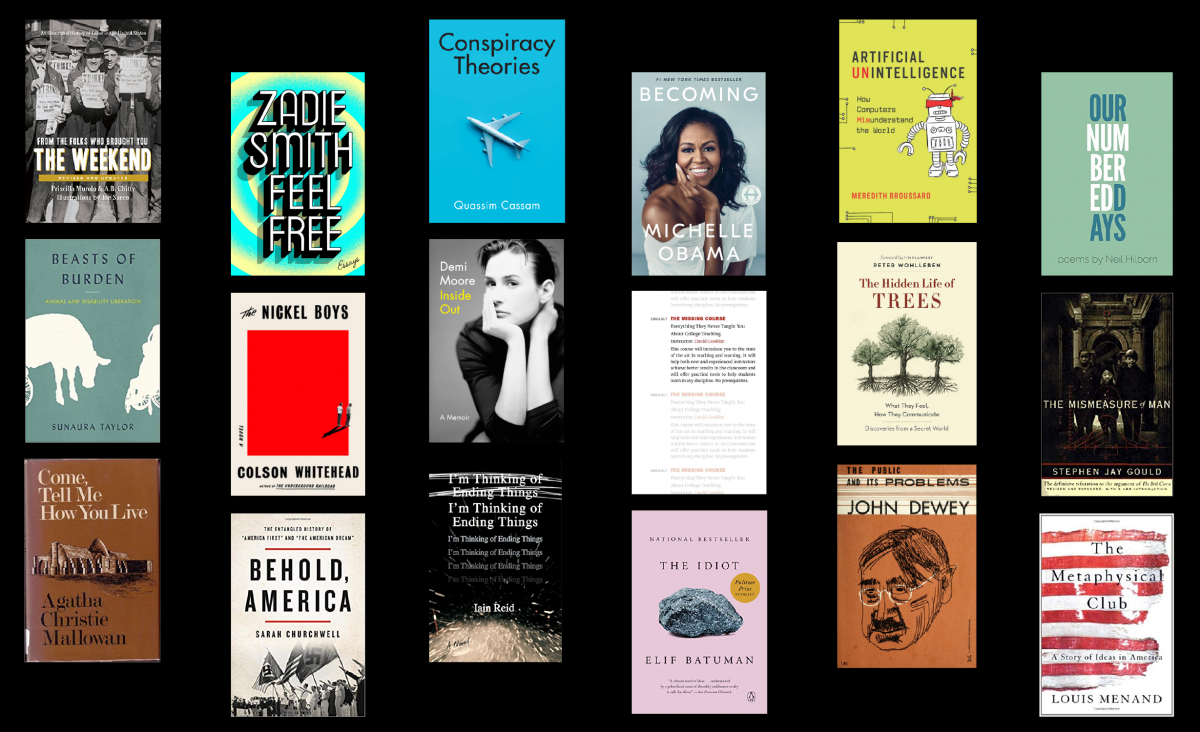 Artificial Unintelligence: How Computers Misunderstand the World (2018) by Meredith Broussard…Why? It spells out very clearly, and explains expertly (Broussard is a data journalist and former software developer), something many of us have felt at one point or another about algorithms, artificial intelligence, and computers in general: they're terrific at certain things, terrible at a lot of very basic and very important things.
Beasts of Burden: Animal and Disability (2017) by Sunaura Taylor…Why? Her writing is smart, devastating, funny, and ultimately the hope we need for 2020.
Becoming (2018) by Michell Obama…Why? Most politicians and public figures are or seem out of touch, and many write memoirs to set up the next step in their political ambitions. Obama's memoir is far from that; in it you will find a deeply and genuinely human story filled with successes and failures; struggles, determinations, and yes, at times strokes of luck.
Behold America: The Entangled History of "America First" and "American Dream" (2018) by Sarah Churchwell…Why? It teaches us that the fight over America's soul is still being fought over much of the same ground and offers a disturbing history of American fascism.
Come Tell Me How You Live (1946) by Agatha Christie…Why? Because beyond the orientalist attitude that is rampant in her writing, you will find in this archaeological memoir a simple and largely true description of life in a bygone era in parts of the Middle East that are now burning in the fires of war and sectarianism. She also provides a rare and honest window into her thinking, her fears, and her endeavors to overcome a sheltered worldview.
Conspiracy Theories (2019) by Quassim Cassam…Why? Because we really need to see conspiracy theories for what they are: the weapons of political ideologies.
Feel Free (2019) by Zadie Smith…Why? Reading Smith's essays is therapeutic and uplifting, like listening to the smartest, most thoughtful person in the room after hearing too much from others. Feeling Free brings together many of her moving, insightful thoughts on Brexit, American politics, Facebook, Key & Peele, celebrity, and more.
From Folks Who Brought You the Weekend (2003) by Priscill Murolo…Why? Because it is incumbent upon every American to know the labor history of this country. At a time when collective bargaining rights are under attack and "union" has become a four-letter word, Murolo's accessible prose brings to life the story of America's ongoing class struggle; one that makes us root—more than ever before—for the humanitarian demands of teachers, automakers, and academic workers across the country.
The Hidden Life of Trees (2006) by Peter Wohlleben…Why? It explores the "secret" world of trees and their intricate social networks that go largely unnoticed.
The Idiot (2017) by Elif Batuman…Why? There are lots of funny observations and reflections on language and literature, email exchanges with a love interest, and passages from a Russian textbook. This novel/memoir, set in 1995, follows the first year of college—from moving into a dorm and shopping for classes, all the way to a summer teaching English in Hungary—for Selin, a character based on Batuman herself.
I'm Thinking of Ending Things (2017) by Iain Reid…Why? Reid's debut novel is an ambitious and provocative psychological thriller based on the tension between the protagonist and his girlfriend…or so it seems. The jury is still out as to whether he pulls it off or not. Just read it and judge for yourself, preferably before the Netflix adaptation comes out in 2020.
Inside Out: A Memoir (2019) by Demi Moore…Why? You might roll your eyes at a movie star memoir, but it's a deeply serious account of how we are shaped by parents and our parent's parents, addiction, and mental illness. But then also about our capacity to grow and change, to be open and present.
The Metaphysical Club (2002) by Louis Menand…Why? It is an unparalleled account of the emergence of the American pragmatist movement and the 19th-century environment which shaped the thinkers involved.
The Mismeasure of Man (1996) by Stephen Jay Gould…Why? Because sadly his detailed study of the genesis and evolution of scientific racism still has currency in the 21st century.
The Missing Course: Everything They Never Taught You about College Teaching (2019) by David Gooblar…Why? I never paid much heed to "active learning" and other phrases one finds in dreary teaching philosophies, but The Missing Course has persuaded me otherwise. It has a good blend of Gooblar's own personal experience, educational research, and immediately useful examples (like "naive tasks"), all written in an evenhanded way, without all the cant.
The Nickel Boys (2019) by Colson Whitehead… Why? Because the book is brilliant, because he was amazing when he came to UConn, because it's a book that confronts trauma and memory and legacy in important ways.
Our Numbered Days (2015) by Neil Hilborn…Why? It is a moving collection of slam poetry which offers an important modern perspective on mental illness.
The Public and Its Problems (1991) by John Dewey…Why? Because everyone needs some hope for the holidays. Dewey here offers his famous defense of the idea of the democratic public sphere— the dream of participatory democracy— against Lippman's famous criticisms.