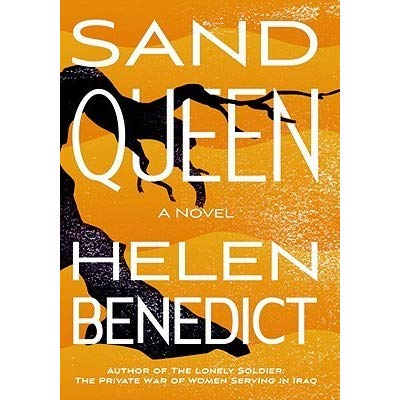 "Ok readers: the "bad" and the truly bad humanities. The queen of "bad" is Lady Gaga The Brilliant. Am already standing in line for tickets to A Star is Born coming out in October. Am already planning to see it numerous times. If "bad" is good, she's one of the best --the Super Bowl of 2017 proved that. Just try to deny her.
The truly bad? War. Wanna go there? Read a slew of novels and memoirs out these days or zero in on the best one in the bunch. Helen Benedict's The Sand Queen is a multivoiced novel of the early American war in Iraq. In one corner is a young American army woman, Kate, continuously tormented by her male comrades-in-arms as they guard an infamous prison camp (Bucca, it actually existed) and continuously tormented as well by the "enemy" male prisoners she oversees. In another corner is an Iraqi woman near Kate's age, Naema, whose male relatives get brutally seized by American troops, leaving the family to stand at the prison camp gates with others to plead for news of all the innocent mistreated male family members held there. Be prepared: there is no redemption in this novel for either character or for the reader, no nicey-nice friendship between Kate and Naema that soothes the pain on both sides. No. it's war, baby. Wanna go now?
See Gaga after reading Queen and imagine the anger she would unleash at those gates."
Christine Sylvester,
Professor of Political Science
---