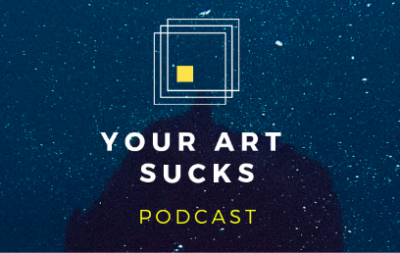 "You should be listening to the podcast "Your Art Sucks": http://yourartsuckspodcast.com/
The podcast is meant to encourage artists to just keep creating art for the love of art; each episode delves deep into a topic, challenge or roadblock that artists of all types (visual, performance and written) encounter with concrete examples of an artist that failed and one that triumphed. I listen to this podcast, not as an artist, but as a museum registrar and curator who strives to understand the process behind creation.
My absolute favorite episode is the first one exploring self-criticism as a healthy, necessary tool in not just the artist's, but everyone's life. Encouragement that all should take the middle path as self-doubt can cripple you if you succumb to it, but also can also create empty pointless art if you are too full of confidence.  Jackson Pollock is juxtaposed with Connecticut's own Sol LeWitt (of which two of his works on are currently on display in the Benton).  LeWitt wrote the impassioned letter to his friend and fellow artist, Eva Hesse, that serves as a manifesto for rising above the self-criticism to just do.
Excerpt Letter from Sol LeWitt to Eva Hesse (April 14, 1965)
… Learn to say "Fuck You" to the world once in a while. You have every right to. Just stop thinking, worrying, looking over your shoulder, wondering, doubting, fearing, hurting, hoping for some easy way out, struggling, grasping, confusing, itching, scratching, mumbling, bumbling, grumbling, humbling, stumbling, numbling, rambling, gambling, tumbling, scumbling, scrambling, hitching, hatching, bitching, moaning, groaning, honing, boning, horse-shitting, hair-splitting, nit-picking, piss-trickling, nose sticking, ass-gouging, eyeball-poking, finger-pointing, alleyway-sneaking, long waiting, small stepping, evil-eyeing, back-scratching, searching, perching, besmirching, grinding, grinding, grinding away at yourself. Stop it and just DO…"
-Rachel Zilinski
Registrar and Assistant Curator
William Benton Museum of Art
University of Connecticut
---