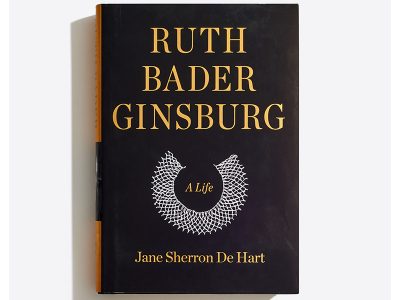 "You should Read: RUTH BADER GINSBURG, A LIFE, by Jane Sherron De Hart
An engrossing biography released by Knopf in fall 2018 by a feminist historian about a mother, lawyer, and future judge who did not start out as a feminist.
Who would have predicted that Supreme Court justice Ruth Bader Ginsburg would become a popular culture icon and have thousands of youthful followers at the start of the twenty-first century?  Now is the time to show off your Ginsburg know-how by reading this new and luminous biography, years in the making, by master prose stylist and University of California, Santa Barbara, historian Jane De Hart.  The book is based in part on many interviews De Hart conducted with the justice, her family members, and associates.  All stages in RBG's life through 2017 are contextualized through the author's expertise on modern political history, law, and social movements.  To whet your appetite, here are some of my favorite chapters (and chapter titles): Celia's Daughter, Leaning the Law on Male Turf, The Making of a Feminist Advocate, Setting up Shop and Strategy, An Unexpected Cliff-Hanger, "I Cannot Agree," Race Matters, and (the final chapter in the book) An Election and a Presidency Like No Other."
-Cornelia Dayton
Professor of History
University of Connecticut
---