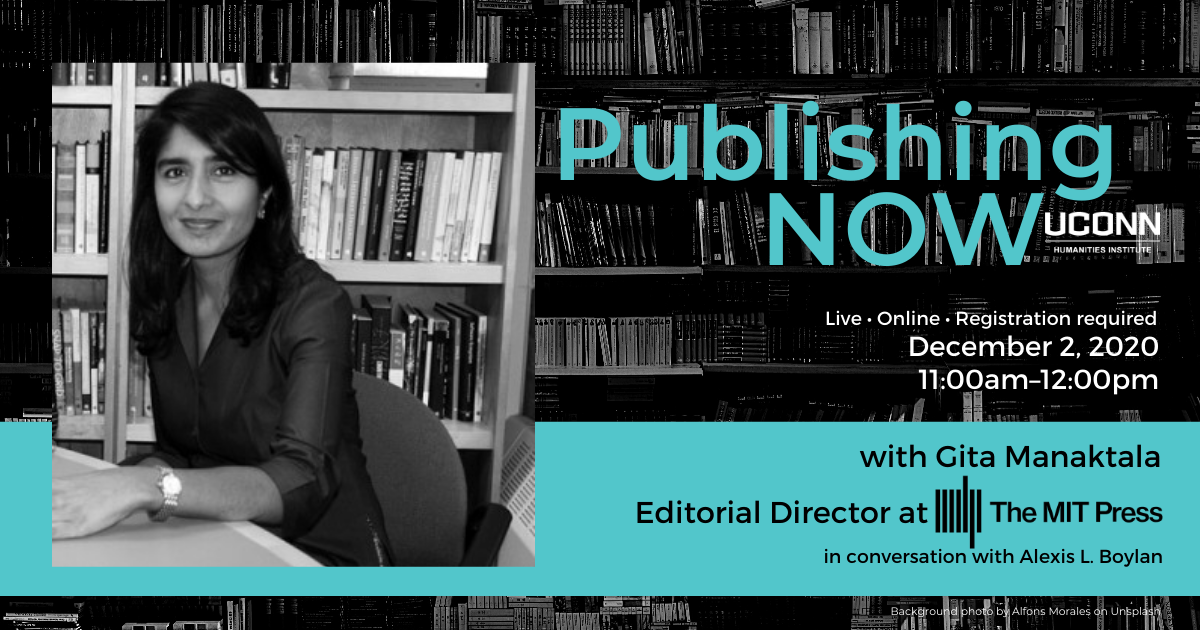 If you require accommodation to attend this event, please contact us at uchi@uconn.edu or by phone (860) 486-9057.
The University of Connecticut Humanities Institute presents:
Publishing NOW!
With Gita Manaktala of MIT Press in conversation with Alexis L. Boylan.
December 2, 2020, 11:00am–12:00pm
An online webinar. Event registration is required for attendance.
Gita Manaktala is the Editorial Director of the MIT Press, a publisher of scholarship at the intersection of the arts, sciences, and technology. Known for intellectual daring and distinctive design, MIT Press books push the boundaries of knowledge in fields from contemporary art and architecture to the life sciences, computing, economics, philosophy, cognitive science, environmental studies, linguistics, media studies, and STS. Gita's own acquisitions are in the areas of information science and communication. Until 2009, she served as the press's marketing director with responsibility for worldwide promotion and sales. In this role, she helped to develop CISnet, an online collection of the Press's computer and information science titles, now on the IEEE Explore platform. She has served on the board of directors of the Association of American University Presses and co-chaired its first diversity and inclusion task force, which led to a standing committee dedicated to Equity, Justice, and Inclusion, which she also co-chaired. She is a regular speaker on topics in scholarly communication and publishing.
Alexis L. Boylan is the acting director of the University of Connecticut Humanities Institute (UCHI) and an associate professor with a joint appointment in the Art and Art History Department and the Africana Studies Institute. She is the author of Visual Culture (MIT Press, 2020), Ashcan Art, Whiteness, and the Unspectacular Man (Bloomsbury Academic, 2017), co-author of Furious Feminisms: Alternate Routes on Mad Max: Fury Road (University of Minnesota, 2020), editor ofThomas Kinkade, The Artist in the Mall (Duke University Press, 2017), and editor of the forthcoming Ellen Emmet Rand: Gender, Art, and Business (Bloomsbury Academic, 2020). She has published in American Art, Archives of American Art Journal, Boston Review, Journal of Curatorial Studies, and Public Books. Her next book focuses on the art created for the American Museum of Natural History (AMNH) in New York City and how art and science antagonize and inspire cultural dialogues about truth and knowledge.
---