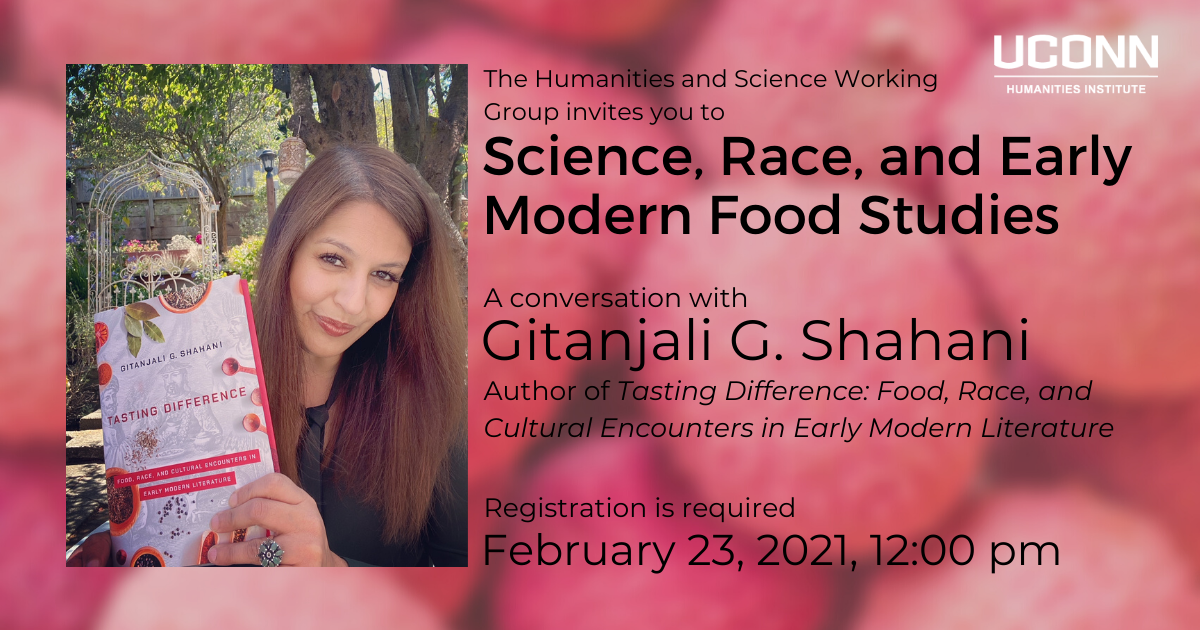 THE HUMANITIES AND SCIENCE WORKING GROUP PRESENTS
Science, Race, and Early Modern Food Studies
Gitanjali Shahani, English, San Francisco State University
February 23, 2021, 12:00p.m.

Live. Online. Registration required.
The Humanities and Science Working Group will be reading the Introduction and Chapter One ("Spices: 'The Spicèd Indian Air' in Shakespeare's England") from Dr. Shahani's book. The e-book is available through UConn Library. If anyone needs copies directly, they can email Debapriya Sarkar (debapriya.sarkar@uconn.edu).
Gitanjali Shahani is Professor of English at San Francisco State University, where she teaches courses on Shakespeare studies, postcolonial studies, and food studies. She is the author of Tasting Difference: Food, Race, and Cultural Encounters in Early Modern Literature (Cornell University Press, 2020). She has edited two collections, Food and Literature (Cambridge University Press, 2019) and Emissaries in Early Modern Literature & Culture (Routledge 2016, Ashgate 2009, with Brinda Charry). Her articles on race and colonialism in early modern literature have been published in numerous collections and journals, including Shakespeare, Shakespeare Studies, and The Journal of Early Modern Cultural Studies.
With generous support from the UConn Humanities Institute.
---