As part of our 20th anniversary celebrations, we've checked in with former fellows to gather reflections on their fellowship years, to get an update on their fellowship projects, and to see what they are working on next. Read them all here.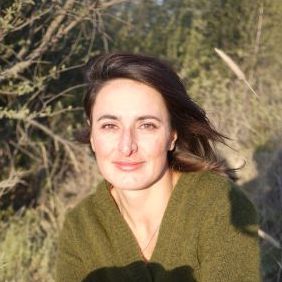 2004–2005 faculty fellow V. Penelope Pelizzon's last poetry collection, Whose Flesh Is Flame, Whose Bone Is Time, was published in 2014 (Waywiser Press). Pelizzon's awards include a 2020 Quarterly West editor's choice award for her chapbook Of Vinegar Of Pearl, a 2019 Hawthornden Fellowship, an Amy Lowell Traveling Scholarship, and the Center for Book Arts chapbook award for her collection Human Field. New poems from her next book appear or are forthcoming in Tin House online, Ecotone, 32 Poems, The Bennington Review, The Gettysburg Review, The New England Review, The Harvard Review, Plume, and Orion.
---
What was your fellowship project about?
My fellowship project in 2004–5 was a long poem in segments, "The Monongahela Book of Hours," which developed into a central section of my third book. I believe that this was the first creative writing project to be supported by the still-young UCHI, so it was exciting to represent the poetry end of the humanities among my scholarly peers.
Would you give us an update on the project?
"The Monongahela Book of Hours" appeared in my book Whose Flesh Is Flame Whose Bone Is Time (Waywiser, 2014), which was a finalist for the Anthony Hecht Poetry Prize. Before appearing in the book, the long poem was published in the American literary journal At Length.
How did your fellowship year shape your project, or shape your scholarship in general?
The time to slow down and feel and think, allowing new poems to evolve, was crucial to the book's development. The interactive elements of the fellowship year were sustaining, too—it's always invigorating to feel part of a thinking community! But perhaps most importantly for a poet, the year allowed me the hours of psychic and emotional privacy my real creative work feeds on. It's unusual to find that sweet spot, that right measure of community with enough productive solitude for new work to emerge in all its tender / brash / ugly / coltish / uncanny ways.
Would you share a favorite memory from your time as a UCHI fellow?
I remember a lot of snowy mornings and late afternoons with the blue light slanting though my UCHI window on the upper floor of the Austin Building, and the nice smells of coffee being brewed by fellows down in the common area...the perfect sensory image of privacy within community.
What are you working on now (or next)?
This spring Quarterly West published my long poem Of Vinegar Of Pearl as the editor's choice in their annual chapbook series, and I've just finished revising another full-length book of poems, Animals & Instruments. Various poems from that collection have come out in print in journals this year. Meanwhile, I have three new poems just started in July that might be disasters or might be the kernel of the next thing—too early yet to tell.
Our theme for UCHI's 20th anniversary year is "The Future of Knowledge." What would you say are some of the challenges facing the future of knowledge? And what do you think is most exciting or promising about the future of knowledge?
I could say poetry's best knowledge—and that of the humanities at large—is embodied in discomfort. It's the knowledge that we don't yet have language for our full reality, and that, as our realities change, we need more expansive and penetrating language. I could say that it's hard to empathize with what others are experiencing when we don't even have rich imaginative language for some of our own most trivial experiences. And by "trivial"—well, here I mean experiences that have been overlooked or scorned by the Adults In Charge. So, one exciting thing is that a lot of long-overlooked stories are now being written. But it also feels a bit disingenuous of me, wearing my poet hat, to speak about "knowledge." When I'm writing well, what I'm trying to shed are assumptions of authority or the idea that I have anything, even my native language, already figured out.
---