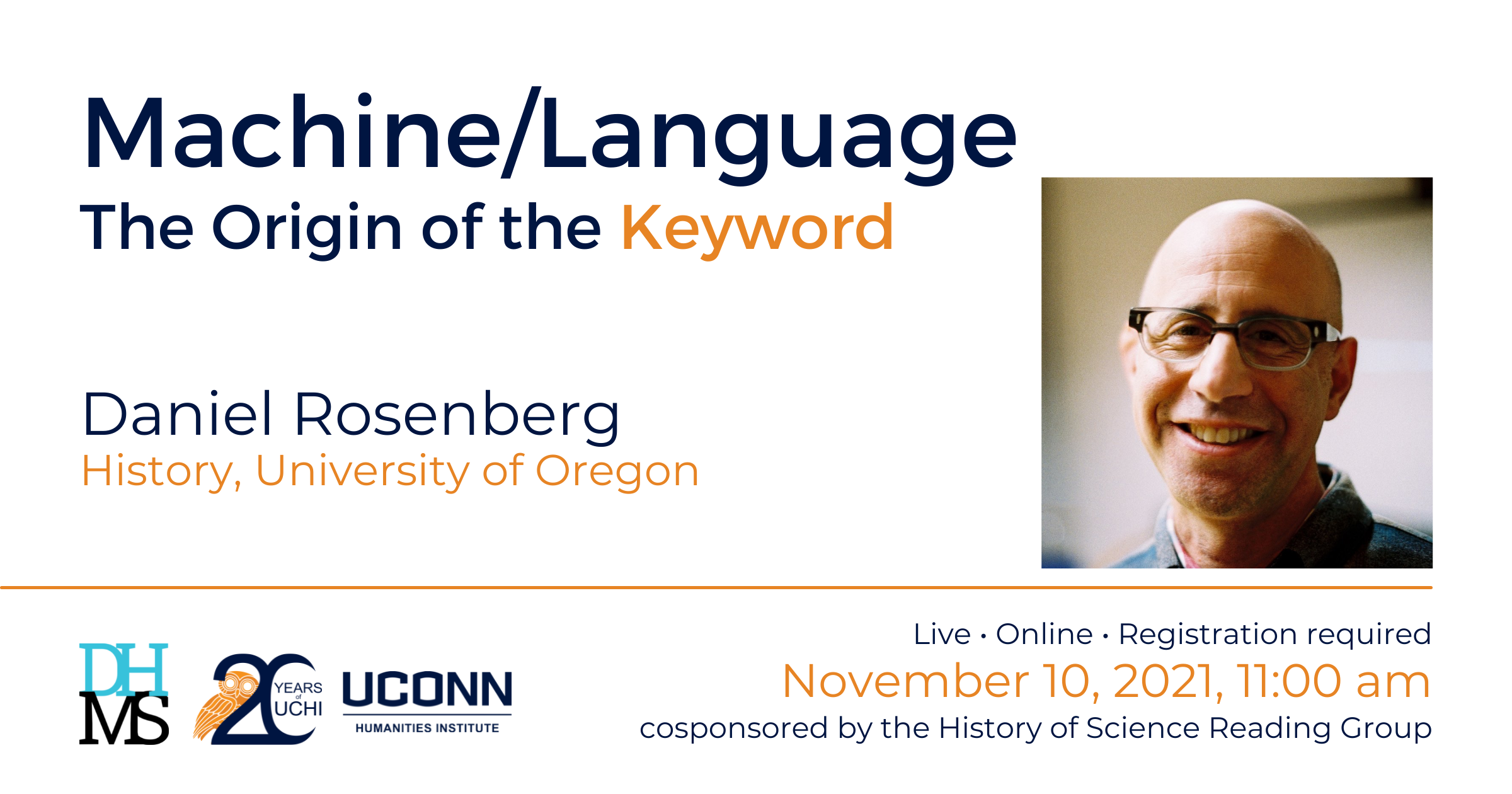 If you require accommodation to attend this event, please contact us at uchi@uconn.edu or by phone (860) 486-9057. We can request ASL interpreting, computer-assisted real time transcription, and other accommodations offered by the Center for Students with Disabilities.
The Digital Humanities and Media Studies Initiative presents:
Machine/Language: The Origin of the Keyword
Daniel Rosenberg (University of Oregon)
November 10, 2021, 11:00am–12:30pm
Add to Google calendar Add to Office 365 calendar Add to other calendar
Live. Online (with automated captioning). Registration required.
There may be no word more emblematic of our information age than keyword itself, but the ubiquity of the term belies its complexity. Distinct concepts of the keyword were articulated in information theory and in cultural studies beginning in the late 1950s. With the rise of the Web in the 1990s, however, these differing concepts were bound together. The story of this hybridization provides insight into the process by which computers became mediators of culture during the second half of the twentieth century as well as the importance of cultural studies to our understanding of computers.
Cosponsored by the History of Science Reading Group.
Daniel Rosenberg is an intellectual historian with a research focus on the history of information and information graphics. In addition, he writes on a wide range of topics related to historiography, epistemology, language, and visual culture. His books are Cartographies of Time: A History of the Timeline with Anthony Grafton (2010) and Histories of the Future with Susan Harding (2005). Rosenberg is Editor-at-Large of Cabinet: A Quarterly of Art and Culture, where he is a frequent contributor. He also directs a digital project on historical graphics supported by the National Endowment for the Humanities entitled Time Online. Rosenberg has received grants and fellowships from ACLS, NEH, Stanford Humanities Center, Max Planck Institute for the History of Science, and American Academy in Berlin among other institutions. Recognitions at the University of Oregon include the Coleman-Guitteau Teaching Fellowship, Fund for Faculty Excellence Award, Williams Council Grant, Faculty Research Award, and Lorry Lokey Award for Science and the Human Condition. Among other subjects, Rosenberg has published on paleolithic calendars, the concept of sloth, the history of Jell-O, and the languages of planet Mars.
---