"I See it as a Feminist Statement": Camille Billops and the Art of Liberation
Sherie Randolph (Associate Professor of History, Georgia Institute of Technology)
with a response by Laura Mauldin
Wednesday, April 20, 2022, 4:00pm, Humanities Institute Conference Room, HBL 4-209
Add to Google calendar Add to Office 365 calendar Add to other calendar
The event will also be livestreamed with automated captioning.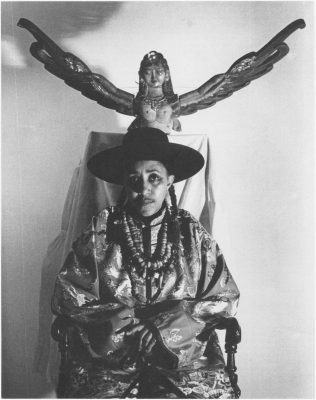 Given the socioeconomic structures and cultural constraints that limited Black women's options both within and outside of the Black community, Black mothers had little space to determine their own lives, protect their bodily autonomy, and pursue their individual passions. How do we understand "bad" Black mothers who rejected contemporary forms of mothering and placed a greater value on their own creative and political work during the long 1960s? Sherie Randolph's talk looks specifically at the Black feminist artist Camille Billops (1933–2019) and explores how she understood her contribution to Black arts as more valuable than her role as a Black mother. She learned to view her own happiness as freedom from parenting. In short, Billops's life choices are in line with current research that suggests that if a woman wants to be content, it is best to remain childless. This talk places Billops's artwork alongside interviews, her personal papers, and other archival sources to examine how she defied the boundaries of heteronormative motherhood in the postwar United States and went on to become an award-winning artist, filmmaker and archivist. In doing so, Billops enlarged Black feminist understandings of the possibility of Black liberation.
Sherie M. Randolph is an associate professor of history at the Georgia Institute of Technology and the founder of the Black Feminist Think Tank. Formerly an associate professor of history and African American Studies at the University of Michigan, Ann Arbor. Randolph's book Florynce "Flo" Kennedy: The Life of a Black Feminist Radical, published by the University of North Carolina Press (October 2015), examines the connections between the Black Power, civil rights, New Left, and feminist movements. The former Associate Director of the Women's Research & Resource Center at Spelman College, she has received several grants and fellowships for her work, most recently being awarded fellowships from the University of Connecticut's Humanities Institute and Brown University's Howard Foundation. Randolph is currently writing her second book "Bad" Black Mothers: A History of Transgression.
Access note
If you require accommodation to attend this event, please contact us at uchi@uconn.edu or by phone (860) 486-9057. We can request ASL interpretation, computer-assisted real time transcription, and other accommodations offered by the Center for Students with Disabilities.
---