We are very excited to welcome Professor Anna Mae Duane as the fourth director of the UConn Humanities Institute. Her appointment as director will begin this August.
As Provost Anne D'Alleva noted in her announcement of Professor Duane's appointment, Professor Duane was selected from a very impressive pool of candidates and "has demonstrated a commitment to and understanding of the humanities across a range of disciplines and support for the diverse voices and perspectives that constitute UCHI."
The recipient of two UCHI fellowships, Professor Duane is deeply involved in interdisciplinary scholarship at UConn and beyond. A professor of English, Professor Duane conducts research that reaches beyond disciplinary boundaries, engaging with childhood studies, literary and critical theory, and disability studies.
Professor Duane has articulated an exciting vision for the Humanities Institute—building on the legacy created over the past twenty-one years, in large part by the leadership of current director Michael Lynch, and branching out in new directions to create an even more robust and vibrant community of humanities scholars at UConn. We can't wait to see that vision in action.
We'd like to thank the search committee for their work, and we would also like to thank the whole Provost's office for overseeing the search process, with special thanks to Senior Vice Provost Jeffrey Shoulson.
A Message from the New Director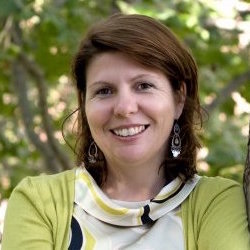 It's a dream come true for me to lead the Humanities Institute here at UConn. As a faculty member and as a UCHI fellow, I've had a front row seat to the remarkable leadership of our previous Director, Michael Lynch, Director of Academic Affairs Alexis Boylan, and the rest of the UCHI team, including Yohei Igarashi, Elizabeth Della Zazzera, Nasya Al-Saidy, and Mary Volpe. Together, they have fostered an internationally recognized site of intellectual excellence that fosters cutting-edge research and collaboration. As we move forward, I am committed to building on this foundation by continuing our outreach to renowned scholars in the humanities across the globe, while expanding our efforts within the UConn community to support our faculty and students.
—Anna Mae Duane
---