As part of our 20th anniversary celebrations, we've checked in with former fellows to gather reflections on their fellowship years, to get an update on their fellowship projects, and to see what they are working on next. Read them all here.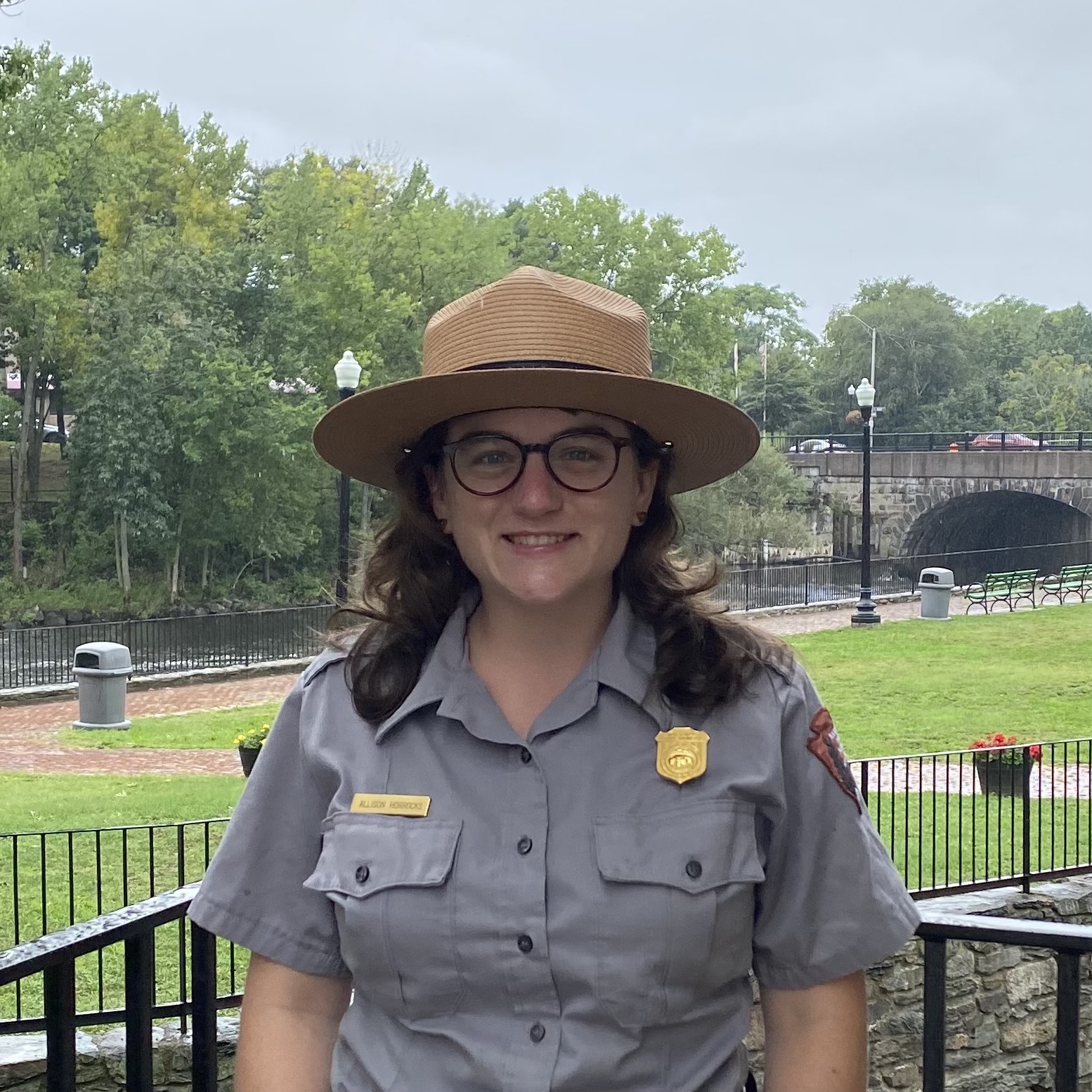 2015–16 Dissertation Research Scholar Allison Horrocks is a public historian. She works as a Park Ranger at Blackstone River Valley National Historical Park in Pawtucket, RI. Allison is also the co-host of the podcast American Girls.
---
What was your fellowship project about?
I completed and defended my dissertation "Good Will Ambassador with a Cookbook: Flemmie Kittrell and the International Politics of Home Economics" in March 2016.
During my fellowship year, I was writing a new history of Home Economics in the 20th century. My research focused on work by academics within the discipline who taught at historically black colleges and served in the field of international relations. One of my larger goals was to shift conceptions of what it might mean to study domesticity at home and abroad. This was the culmination of several years of archival work and study in the history of Home Economics.
Would you give us an update on the project?
I am no longer pursuing the project, though the finished dissertation is publicly available on OpenCommons.
I periodically receive inquiries about the project from journalists or people working in Home Economics today. Some of my much-delayed FOIA requests also continue to come in the mail, all these years later.
How did your fellowship year shape your project, or shape your scholarship in general?
I think there is a misconception that a fellowship year is a year "off." My fellowship year allowed me to be even more intentional about my time management, particularly with regards to how I engaged with others in the UConn community. Instead of working alone, in an archive or in my home study, I had a much-needed chance to connect with other scholars.
Overall, my fellowship year at UCHI was essential to my project. I was able to finish along the timeline I had set out for myself and to take care with my final writing and editing stages. While I was at the Institute, I appreciated how the group of fellows was managed. The general approach was non-hierarchical, but not so casual as to be counter-productive. It is hard to find that kind of environment when working as a graduate student.
Would you share a favorite memory from your time as a UCHI fellow?
Before I was a fellow and during my fellowship year, I spent many hours in a chair against one of the walls or bookcases in the UCHI conference room. I loved learning from the visiting fellows and seeing new and compelling work presented to a group of peers. I don't know that it was my favorite moment, per se, but I do have a vivid memory of one of these talks. It was from a presentation on logic, given by a philosopher. I did not fully understand all of it, nor did I need to in order to appreciate what was happening in front of me. People were striving to understand, together, and that is an important and rare thing. On my way home that night, I remember realizing that I would never think about doubt in the same way, again. What a gift that speaker gave to me—to all of us.
What are you working on now (or next)?
I am a public historian and I work for the National Park Service. I am currently a Park Ranger at Blackstone River Valley National Historical Park in Pawtucket, RI. I will be working with a team of colleagues on new exhibits and public programs at Slater Mill, a property very recently acquired by NPS.
I am also the co-host of the podcast American Girls, which draws upon my background as a historian of gender and domesticity.
Our theme for UCHI's 20th anniversary year is "The Future of Knowledge." What would you say are some of the challenges facing the future of knowledge? And what do you think is most exciting or promising about the future of knowledge?
I work at the intersection of historical research and interpretation. I talk to people of all ages and backgrounds about complex concepts such as capitalism and exploitation while also providing a basic orientation to the site where I am employed. Why did I choose to do this line of work given my background as a historian? I have become a public historian in part because being in a classroom did not entirely suit me. I wanted to be immersed with other people in a landscape and to work with them to understand it better. To really do this requires that one actually believe in shared wisdom, and be committed to collective, experiential learning. It also means being out in the world in a way that is necessarily different from serving and educating in a classroom environment. I bring a lot of knowledge to my job, and so do the people who come to my place of work. Sometimes I am convinced that the challenge is not so much learning any one thing in particular but simply acknowledging that we can all teach one another. How do we do this without losing all grip on concepts of authority, and expertise, especially during a crisis? My hope is that we build a better sense of mutual respect between all people, or knowledge alone will not be worth very much.