Birth of the US Liberal Order: Race and Red-Hunting over the Longue Durée
Alexander Anievas, Ph.D. (Department of Political Science, University of Connecticut)
February 19, 2020 –

 4 to 5PM

(UCHI Conference Room: Babbidge Library, 4th Floor South)

This paper examines the racialized foundations of American anticommunism, tracing the complex ways it became a key pillar of the US liberal order-building project. Specifically, it shows how racial anticommunism held deep roots in the nation's political culture, developing out of the societal antagonisms bound to America's settler-colonial state formation. This great arch of American history connected 'race wars' against the nation's primordial 'communist' enemy, the indigenous populations, with the (geo)politics of racial anticommunism that emerged in the wake of the Bolshevik Revolution: the crucial context from which the Wilsonian order-building project originally emerged. At the moment of its inception, America's 'Wilsonian century' was predicated on a form of anticommunism permeated and infused with racist ideologies and social forces that became increasingly associated with the far-right. The politics of race and the far-right thereby played a crucial role in the making of the post-1945 US liberal hegemonic order.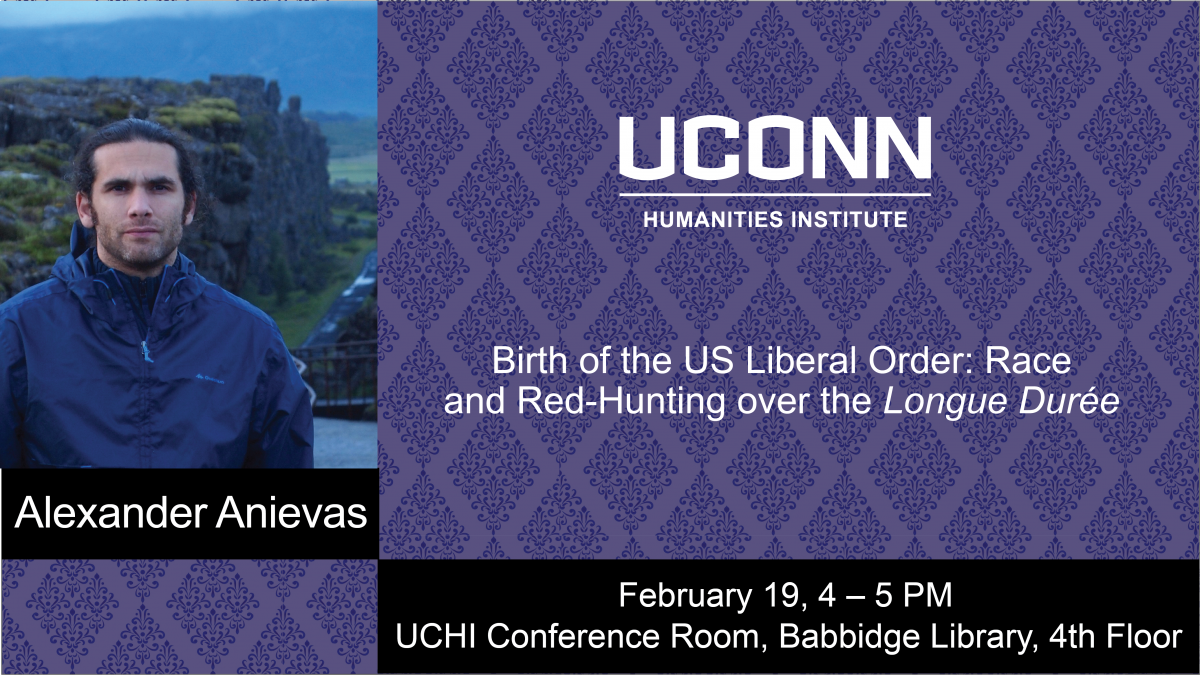 If you require accommodation to attend this event, please contact us at uchi@uconn.edu or by phone (860) 486-9057.
Who is Alexander Anievas?
Alex Anievas is an Assistant Professor of Political Science at the University of Connecticut and his research interests lie at the intersection of historical sociology, political economy and international relations. He previously held fellowships at the University of Oxford and University of Cambridge. Anievas is the author of Capital, the State, and War: Class Conflict and Geopolitics in the Thirty Years' Crisis, 1914-1945 (University of Michigan Press, 2014), for which he was awarded the Sussex International Theory Book Prize, and co-author (with Kerem Nişancıoğlu) of How the West Came to Rule: The Geopolitical Origins of Capitalism (Pluto, 2015), winner of the ISA's International Political Sociology Section Best Book Award and BISA's International Political Economy Working Group Book Prize.