The Cry of the Choir Boy as Love Song in Virginia Woolf's The Waves
Patricia Morgne Cramer, Ph.D. (Department of English; University of Connecticut-Stamford)
March 11, 2020 –

 4 to 5PM

(UCHI Conference Room: Babbidge Library, 4th Floor South)

Virginia Woolf wrote The Waves (1931) during an unprecedented surge of exposés on corporal punishment, bullying, and sexual abuse of boys in British public schools. Read alongside these "old boy" diatribes, the cry of the choir boy wafting through The Waves surfaces as the voice of shock and terror, echoing down the ages, of little boys coming to manhood amid the omnipresent threat of male violence and sexual violation where survival requires "toughening up" fast. What Woolf seems to capture in this dove-like choir boy cry is a resurgent, resistant male voice also discernible in these memoirs. Does Woolf record in the song of the choir boy a nascent shift in the collective consciousness of early twentieth century elite European men? Did she read modernists' protests against their tortured boyhoods as the glimmerings of a more profound revolution than these would-be rebels actually achieved? Does Bernard's refusal of that call at the end of the novel mark a male-gendered generational as well as personal failure?

 The talk will begin at 4PM, but a dramatic reading of The Waves will be played in the UCHI conference room 3:45-4 pm.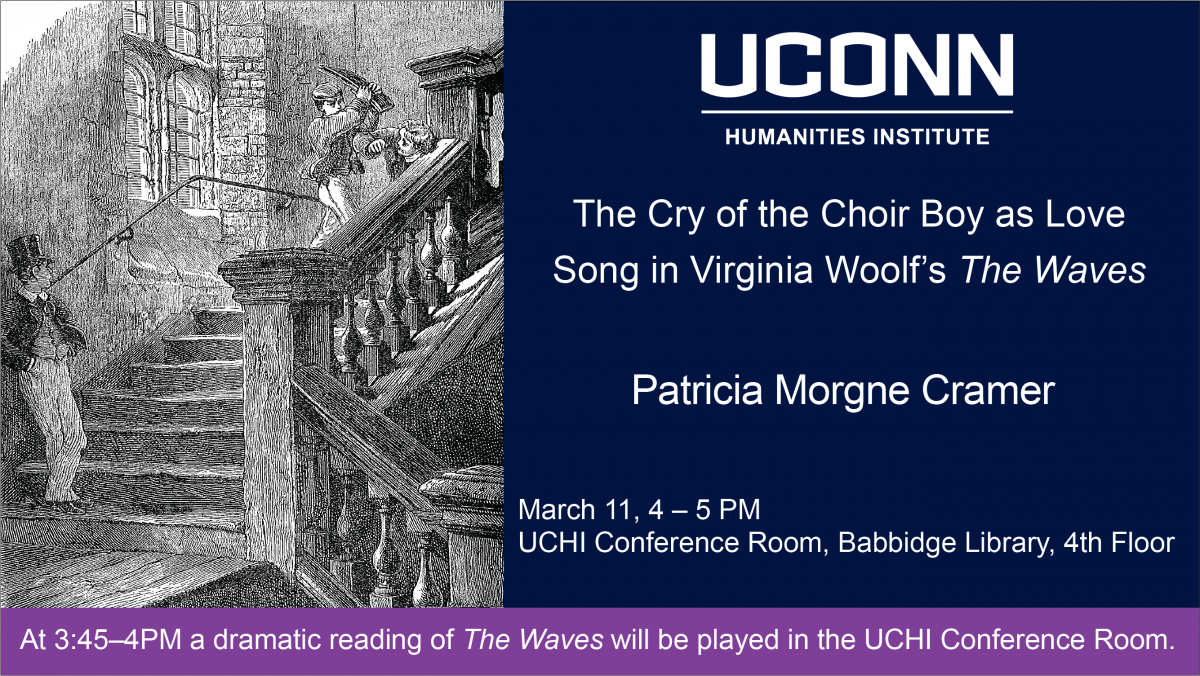 If you require accommodation to attend this event, please contact us at uchi@uconn.edu or by phone (860) 486-9057.
Who is Patricia Morgne Cramer?
Patricia Morgne Cramer is an Associate Professor of English at the University of Connecticut, Stamford. Her current project draws on her prior publications on Woolf and sexuality, especially those reading Woolf as a lesbian author alongside her homosexual male peers. These include "Virginia Woolf and Theories of Sexuality" in Virginia Woolf in Context (Cambridge University Press, 2012) and "Woolf and Sexuality" in The Cambridge Companion to Virginia Woolf (2010). Morgne Cramer is also co-editor of Virginia Woolf: Lesbian Readings (New York University Press, 1997).