Demanding Dignity: Social Workers, Community Organizing, and Welfare Politics in the Puerto Rican Diaspora after 1948
Emma Amador, Ph.D. (History Department, University of Connecticut)
January 29, 2020 –

 4 to 5PM

(UCHI Conference Room: Babbidge Library, 4th Floor South)

This presentation will explore histories of organizing for social services within Puerto Rican communities in the United States. It will begin by examining the role of Puerto Rican women social workers as architects of the Migration Division of the Puerto Rican government's Department of Labor after 1948, showing how within this state agency a generation of social workers challenged the racial and gender discrimination faced by Puerto Rican migrants seeking social services, housing, and care in the US. It will then show how this activism fostered the emergence of a new generation of social worker activists who in the 1960s and 70s moved into new roles as community organizers and civil rights activists. By focusing on Puerto Rican social workers role in shaping and challenging U.S. social welfare institutions to better address colonial and migrant citizens, this paper historicizes their ongoing struggle to demand dignity and social justice.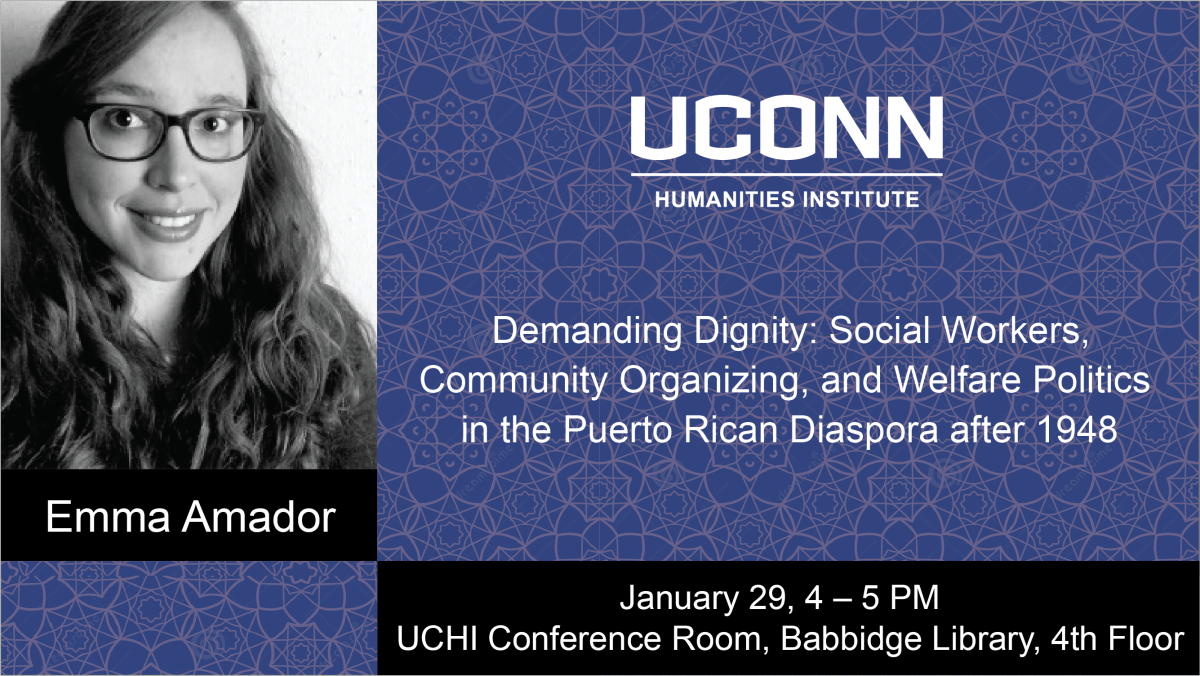 If you require accommodation to attend this event, please contact us at uchi@uconn.edu or by phone (860) 486-9057.
Who is Emma Amador?
Emma Amador is an Assistant Professor of History and Latina/o, Caribbean, and Latin American Studies.  Her work focuses on Puerto Rico, Puerto Ricans, and U.S. Latina/o/x History with an emphasis on women, gender, and race.  She received her Ph.D. from the University of Michigan, an M.A. from UConn, and a B.A. from Sarah Lawrence College.  Before returning to UConn she held a Presidential Postdoctoral Fellowship at Brown University in the Center for the Study of Race and Ethnicity and the History Department (2016-2018). She is currently completing a book manuscript, Contesting Colonialism: Puerto Ricans and the Politics of Welfare in the 20th Century that explores the history of welfare, territorial social citizenship, and struggles for social rights in Puerto Rico and the Puerto Rican diaspora.  This project examines how the U.S. welfare state became a site where Puerto Ricans have fought for social justice, labor reform, and decolonization.  Her work has received support from Brown University, the SITPA Scholar Mellon Program at Duke University, the Ford Foundation Dissertation Fellowship, the Center for Puerto Rican Studies at CUNY, Hunter College, and the Rackham Graduate School at the University of Michigan.
---