A Troubling Presence: The Egyptian Slave Hagar in Early-Modern Visual Arts
Andrea Celli, Ph.D. (Department of Literatures, Cultures, and Languages; University of Connecticut)
February 26, 2020 –

 4 to 5PM

(UCHI Conference Room: Babbidge Library, 4th Floor South)

From late antiquity to the early-modern period, the Biblical character of Hagar, the Egyptian servant of Sarah and the mother of Abraham's first child, Ishmael, was often employed as a disparaging device in Christian and Judaic literature. In the Middle Ages, Christian sources used Hagar and Ishmael derogatorily in relation to Muslims; they were the putative descendants of a servant and of the illegitimate son of Abraham and therefore they were not entitled to inherit God's covenant with Abraham. Yet, Hagar became a successful and popular subject in sixteenth and seventeenth century visual arts, a shift that suggests that patrons and artists were permitted to publicly express compassion toward the fate of an outcast. How to explain this change in approach to a feminine character that often stood for deprecated religious communities and marginalized subjects? This paper will address this visual shift and the broader conceptualization of the figure of Hagar.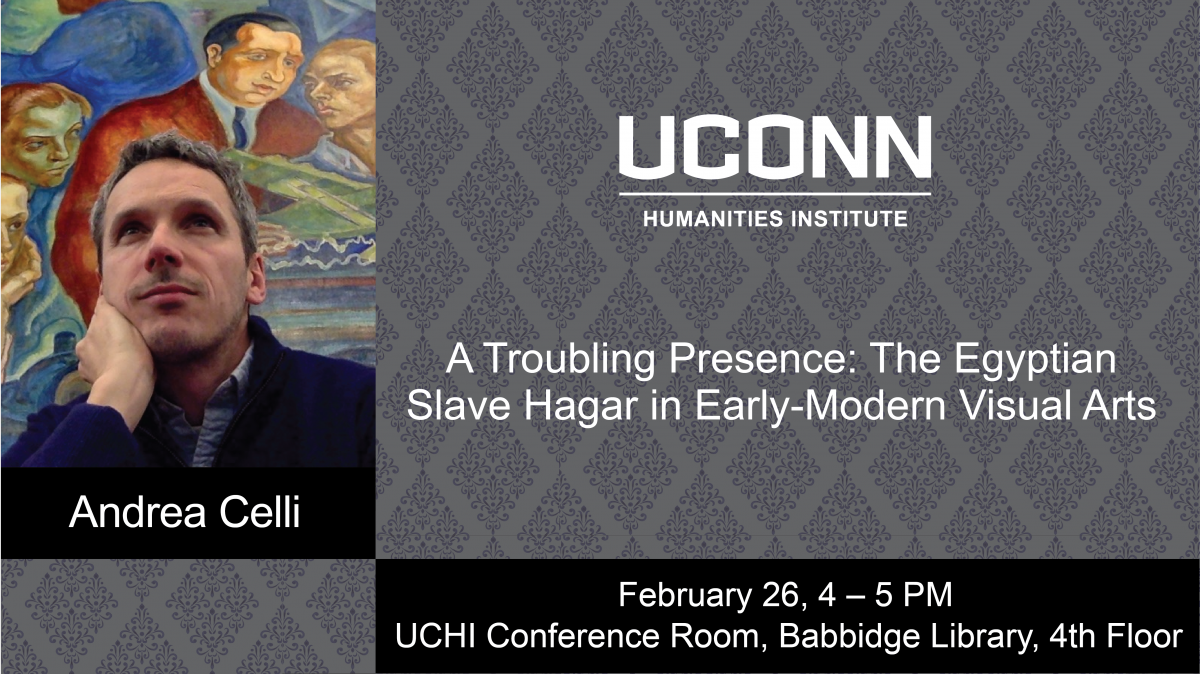 If you require accommodation to attend this event, please contact us at uchi@uconn.edu or by phone (860) 486-9057.
Who is Andrea Celli?
Andrea Celli is an Assistant Professor of Italian Literature and Cultural Studies at the University of Connecticut. He graduated in "Letteratura moderna" at the Univerità di Padova (Italy), where he also received his PhD Degree in "Filologia italiana ed Ermeneutica" (2004). In 2012–2013 he spent one year as a visiting fellow at the School of Advanced Study (Institute of Germanic and Romance Studies – University of London). From 2007 to 2014 he lectured "Ermeneutica e Storia della Critica" at the MA in "Lingua, letteratura e civiltà italiana" (University of Lugano, Switzerland). He has published several monographs, essays, and chapters, and translated a number of works from French and Arabic authors (e.g. Louis Massignon and Adonis). His current projects include a study on re-readings of the narratives of Hagar and Ishmael in counter-Reformation discourses on Islam; a monograph on Islam in early-modern Mediterranean Europe, and an Italian translation of Ernst Kantorowicz's Das Wesen der muslimischen Handwerkerverbaende.