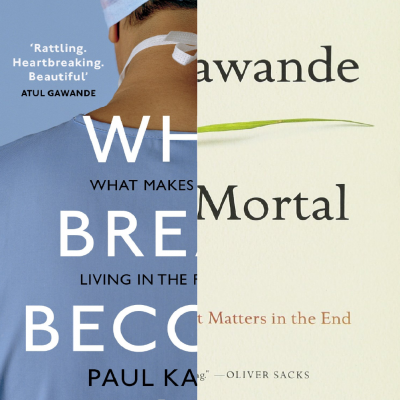 If medicine is an art as much as a science, then a journey of illness through the medical world is part humanistic voyage.  Two books published in the last few years—When Breath Becomes Air by Paul Kalanithi (2016) and Being Mortal by Atul Gawande (2017)—call upon our deepest and truest humanity, and you should read them in tandem.  In When Breath Becomes Air physician becomes patient; in Being Mortal physician becomes fellow traveler on a paternal medical odyssey.  Each narrative is an exercise in heartache, gut punch, intellectual puzzle, moral quandary, and finally, existential 'what if?'  My mind returned these texts over and over since I read them, inspiring me to wrestle anew with the medical journeys that I have traveled in the past and will no doubt walk in the future.  I'm a librarian, so people ask me for reading recommendations all the time, and I'm always happy to share my working shortlist.  The impact of When Breath Becomes Air and Being Mortal lingers and lasts, and you should read them for yourself.
– Sara Harrington
Associate University Librarian for Academic Engagement
University of Connecticut
Who is Sara Harrington? Sara Harrington previously worked at the Ohio University Libraries and the Rutgers University Libraries. Sara holds a Ph.D. in Art History, an M.L.S., an M.Ed. in Higher Education, and a post-graduate certificate in the Curation and Management of Digital Assets. Sara works to integrate academic research libraries into university teaching, researching, and learning, building collaborations with stakeholder communities to support student and faculty success. Sara joined the UConn Library in 2018, and is enjoying getting to know New England across the course of all four of its beautiful seasons.