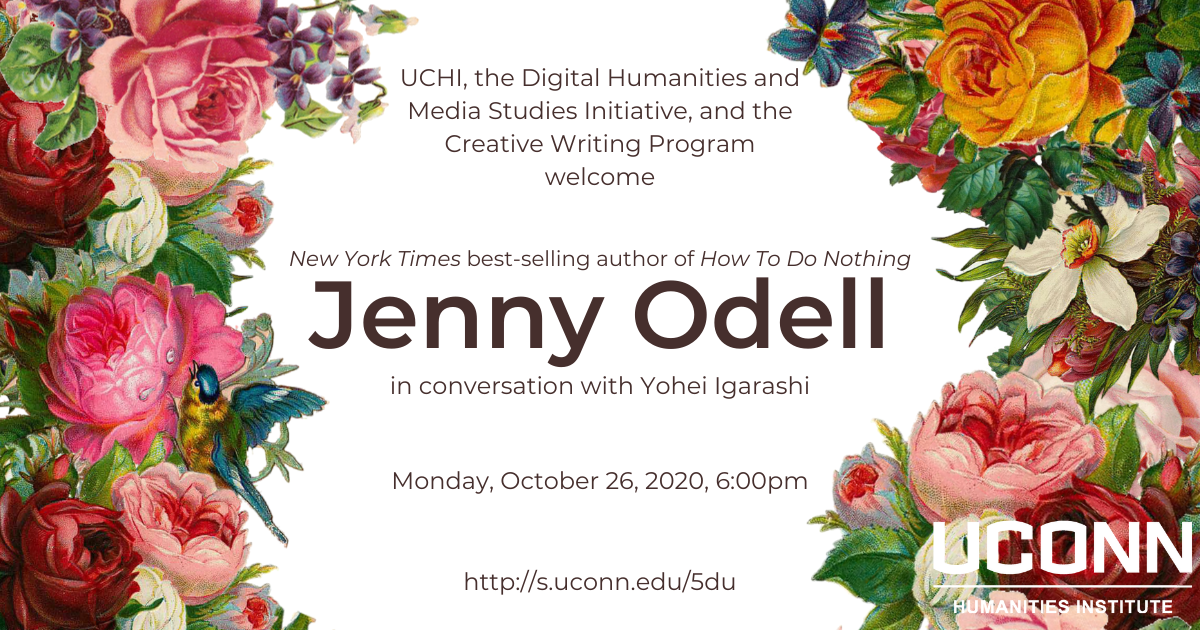 If you require accommodation to attend this event, please contact us at uchi@uconn.edu or by phone (860) 486-9057.
The University of Connecticut Humanities Institute and the Digital Humanities and Media Studies Initiative present:
Multi-disciplinary artist and New York Times best-selling author of How to Do Nothing: Resisting the Attention Economy (2019)
Jenny Odell
in conversation with Yohei Igarashi
Monday, October 26, 2020, 6:00–7:00pm
An online webinar. Registration is required for attendance.
co-sponsored by the Creative Writing Program
How to Do Nothing Book Discussion
In advance of the lecture, UCHI has organized an online book discussion group for UConn faculty and graduate students. This event will take place online on Monday, October 19, 2020, 6:00 p.m. and will be led by Alexis Boylan and Yohei Igarashi.
For this dialogue, we have limited free ebooks (only ebooks) of Jenny Odell's How to Do Nothing: Resisting the Attention Economy (2019) available on a first-come first-served basis. To sign up for an e-book and the book club, visit the Eventbrite page and register with a UConn email address BY SEPTEMBER 25, 2020, noon.