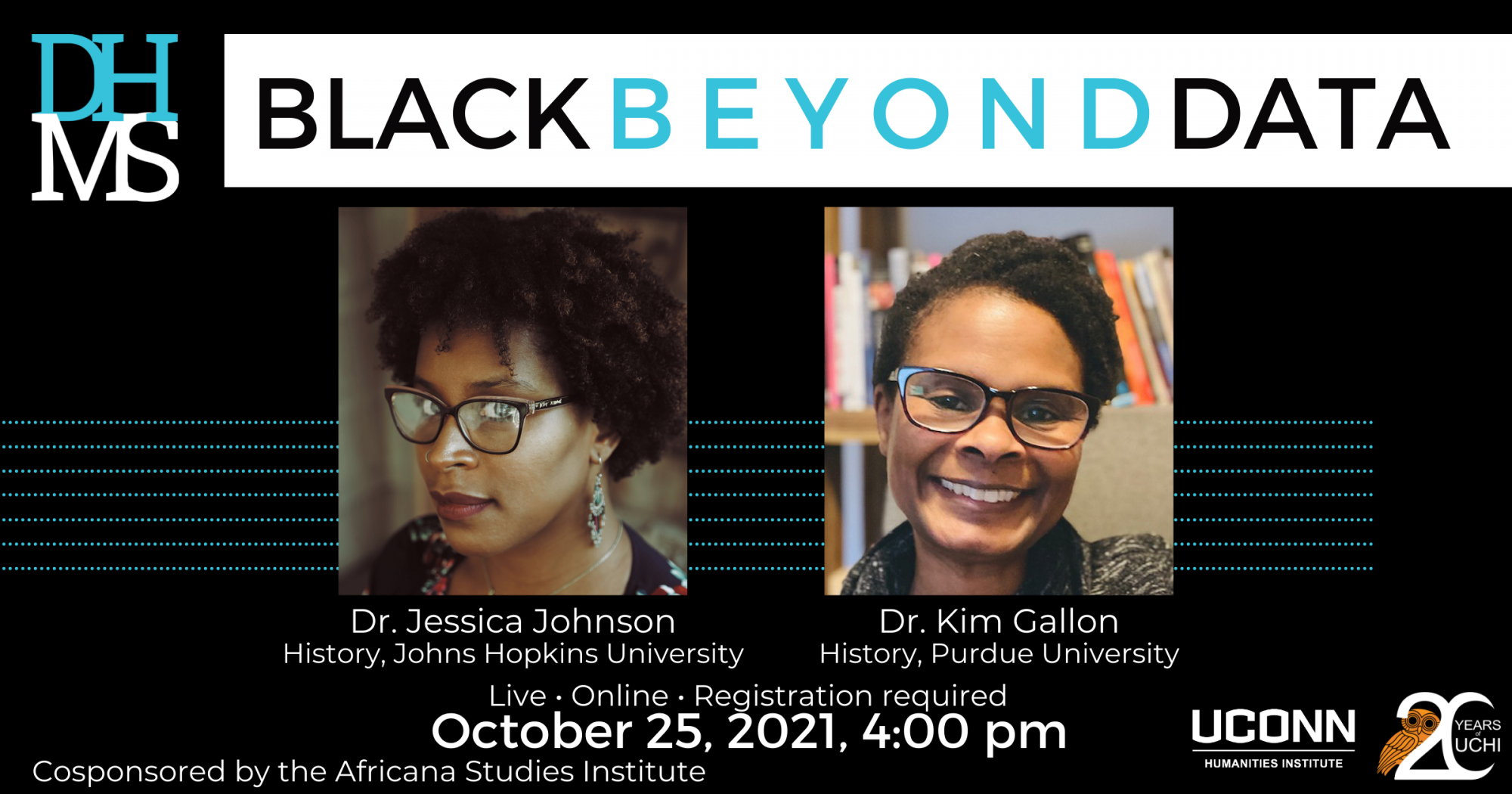 If you require accommodation to attend this event, please contact us at uchi@uconn.edu or by phone (860) 486-9057. We can request ASL interpreting, computer-assisted real time transcription, and other accommodations offered by the Center for Students with Disabilities.
The Digital Humanities and Media Studies Initiative presents:
Black Beyond Data
Jessica Marie Johnson and Kim Gallon
October 25, 2021, 4:00–5:30pm
Add to Google calendar Add to Office 365 calendar Add to other calendar
Live. Online (with automated captioning). Registration required.
Jessica Marie Johnson and Kim Gallon are co-Principal Investigators of Black Beyond Data, a new project backed by a $300,000 Mellon grant. Connecting the fields of digital humanities, Black studies, and data and computation, the project seeks to create an open resource for scholars to combat racial injustice through digital humanities.
Cosponsored by the Africana Studies Institute.
Jessica Marie Johnson is an Assistant Professor in the Department of History at the Johns Hopkins University. Johnson is a historian of Atlantic slavery and the Atlantic African diaspora. She is the author of Wicked Flesh: Black Women, Intimacy, and Freedom in the Atlantic World (University of Pennsylvania Press, August 2020). She is co-editor with Lauren Tilton and David Mmimo of Debates in the Digital Humanities: Computational Humanities. She is guest editor of Slavery in the Machine, a special issue of archipelagos journal (2019) and co-editor with Dr. Mark Anthony Neal (Duke University) of Black Code: A Special Issue of the Black Scholar (2017). Her work has appeared in Slavery & Abolition,The Black Scholar, Meridians: Feminism, Race and Transnationalism, American Quarterly, Social Text, The Journal of African American History, William & Mary Quarterly, Debates in the Digital Humanities, Forum Journal, Bitch Magazine, Black Perspectives (AAIHS), Somatosphere and Post-Colonial Digital Humanities (DHPoco) and her book chapters have appeared in multiple edited collections.
Kim Gallon is an Associate Professor of History. Her work investigates the cultural dimensions of the Black Press in the early twentieth century. She is the author of many articles and essays as well as the book, Pleasure in the News: African American Readership and Sexuality in the Black Press (University of Illinois Press, 2020). Gallon is currently at work on two new book projects—Technologies of Recovery: Black DH, Theory and Praxis (University of Illinois Press), a book about the black digital humanities as a site of resistance and liberation and a book titled, Fiction for the Harassed and Frustrated, which examines the role and significance of popular literary expression in the Black Press in the early twentieth century (Johns Hopkins University Press). She currently serves as the inaugural editor for the Black Press in America book series at Johns Hopkins University Press.
Gallon is also the author of the field defining article "Making a Case for the Black Digital Humanities" and the founder and director of two black digital humanities projects: The Black Press Research Collective and COVID Black. She also serves on a number of digital advisory boards for digital humanities projects and grants.