As part of our 20th anniversary celebrations, we've checked in with former fellows to gather reflections on their fellowship years, to get an update on their fellowship projects, and to see what they are working on next. Read them all here.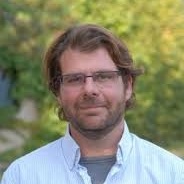 2014–15 Visiting Fellow Joseph McAlhany holds a B.A. in philosophy from Haverford College and a Ph.D. in Classics from Columbia University. He has taught at Carthage College in Kenosha, Wisconsin, at the University of New Mexico, and in Hirosaki, Japan. In 2013, he was a participant in an NEH Summer Insititute, "The Centrality of the Translation to the Humanities," and in 2015 joined another NEH Summer Institute in Italy on the Etrsucans and early Romans. He is now Assistant Professor of History at UConn.
---
What was your fellowship project about? Would you give us an update on the project?
My primary project was an edition and translation of the collected fragments of Marcus Terentius Varro for the Loeb Classical library, the last (incomplete) version of which dates from the 18th century—there are about 2000 fragments in total, in both Latin and Greek, found scatted throughout texts ranging over more than a thousand years. The project, far more complicated than I imagined, is thankfully nearing completion. However, thanks to my work on this project, I published articles and chapters on Latin textual criticism, the idea of literary history in ancient Rome, and the relationship between translation and the humanities. Moreover, a Latin reading group that began during my fellowship with former fellow Hilary Bogert-Winkler and former Associate Director Brendan Kane not only continues to this day, but led this year to a Mellon-NEH proposal to produce a digital edition and translation—we'll know the results in December!
How did your fellowship year shape your project, or shape your scholarship in general?
The opportunity to present nascent ideas to a warm, encouraging, and diverse group of intellects was a true gift—their feedback opened up alternative paths of thought which would otherwise have remained hidden.
Would you share a favorite memory from your time as a UCHI fellow?
I always enjoyed when other fellows or UCHI staff would stop by my office to ask a question, and, in particular, when Michael Lynch appeared at the door, I knew an invigorating conversation was soon to follow!
What are you working on now (or next)?
My new project, which also builds upon my time as a fellow, traces the history of translation not as a practice but as a concept—the way the idea of translation itself has been "translated" at different moments and the consequences of this for the development of humanism. The project covers the Roman translation of Greek literature, the Christian and Jewish debates about the translation of the Hebrew scriptures, medieval ideas about the translation of empires and saints' relics, Renaissance pseudo-translations, and last but not least, a critique of contemporary translation studies.
Our theme for UCHI's 20th anniversary year is "The Future of Knowledge." What would you say are some of the challenges facing the future of knowledge? And what do you think is most exciting or promising about the future of knowledge?
There are two crucial questions for the future of knowledge: what is it? and what is its value? There have always been different forms of knowing, valued differently according to differences in culture and ideology, but with the emergence of the "global" perspective, is there a form of knowing in which humanity can share? Is it worth pursuing? These questions are essential to the humanities, and essential for them, especially as they seem to be succumbing to the regimes of data and science, forms of knowledge that, too often treated as ends in themselves, become an end to thinking, a substitute for wisdom, and an obstacle to meaning. Paradoxically, the future of knowledge might then lie in not knowing, since what we cannot know is what we all have in common. polymathiē noon echein ou didaskei, said Heraclitus some 2500 years ago—knowing a lot doesn't teach you understanding. We know this, but never seem to think about it.