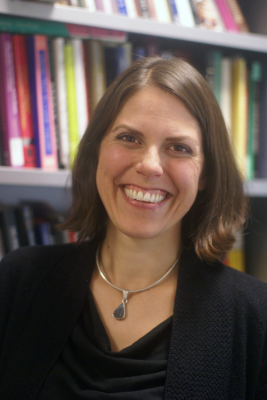 The Digital Humanities & Media Studies initiative of the The University of Connecticut Humanities Institute (UCHI) will co-sponsor a lecture by Annette Vee, associate professor of English at University of Pittsburg, entitled "Algorithmic Writers and Implications for Literacy." Her talk will take place on Wednesday, October 2 at 2 PM in the UCHI Conference Room (Babbidge Library, 4th Floor). Annette Vee is also the director of the Composition Program at Pitt, and is involved in various initiatives that connect the humanities, digital media, and computation. She is also the author of Coding Literacy: How Computer Programming Is Changing Writing (MIT Press, 2017). Other co-sponsors of this event are the Aetna Chair of Writing and the Neag School of Eductation's Reading and Language Arts Center. Below you will find the abstract for Vee's talk.
"Algorithmic Writers and Implications for Literacy"
Writing today is inextricable from computation: we write on and for computers. But computers are no longer just word processors or distributors of our writing. Algorithms, which enter our lives through computers and crowd our writing spaces, affect what we write, who reads it, and how. Algorithms read our emails in order to write our emails. They correct our grammar, they can summarize and simplify texts, and they choose what we read online. If you write on or with computers (and you do), your algorithmic coauthors influence what you write and how you write it. Algorithms are more active agents than pencils or coffeeshops—other materialities that affect our writing processes—and they have complex relationships to the humans who produce and use them. What is literacy when it's learned, performed, and subjected to algorithmic writers? And how should literacy be taught in the context of ubiquitous algorithmic writing? In this talk, Annette Vee will describe contemporary scenes of algorithmic writing, place them in the history of literacy and computation, and present some implications and applications for literacy learning now.