As part of our 20th anniversary celebrations, we've checked in with former fellows to gather reflections on their fellowship years, to get an update on their fellowship projects, and to see what they are working on next. Read them all here.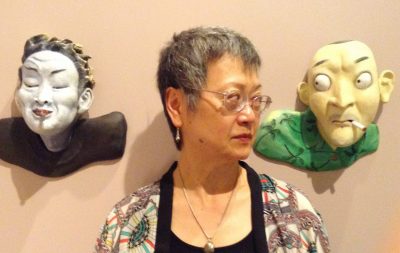 2010–11 Faculty Fellow Margo Machida is Professor Emerita of Art History (School of Fine Arts) and Asian and Asian American Studies (College of Liberal Arts and Sciences) at the University of Connecticut. Born and raised in Hawai`i, she is a scholar, independent curator, and cultural critic specializing in Asian American art and visual culture. Her most recent book is Unsettled Visions: Contemporary Asian American Artists and the Social Imaginary, published by Duke University Press in 2009. This book received the prestigious Cultural Studies Book Award from the Association for Asian American Studies (AAAS) in 2011. She also co-edited the award-winning volume Fresh Talk/Daring Gazes: Conversations on Asian American Art (University of California Press, 2003). She is the 2021 recipient of the prestigious CAA Award for Excellence in Diversity.
---
What was your fellowship project about?
My 2010–2011 fellowship project, "Resighting Hawai'i: Global Flows and Island Imaginaries in Asian American and Native Hawaiian Art," profiled work by fifteen living artists of Asian, Indigenous Hawaiian, and mixed heritages. Drawing on the extensive oral history interviews I conducted with these artists, this project investigated how their visual production negotiates complexly entwined histories, conflicts, and claims to place in the Hawaiian Islands and in the Asia Pacific region.
Would you give us an update on the project?
This fellowship research provided the basis for several subsequent publications including: "Remixing Metaphors: Negotiating Multiracial Positions in Contemporary Native Hawaiian Art," in War Baby/Love Child: Mixed Race Asian American Art (University of Washington Press, 2013); "Trans-Pacific Sitings: The Roving Imagery of Lynne Yamamoto," in Third Text special issue, "The Transnational Turn: East Asian Mobility" (2014); and "Pacific Itineraries and Oceanic Imaginaries in Contemporary Asian American Art," in Asian Diasporic Visual Cultures and the Americas journal (Brill, Spring 2017).
How did your fellowship year shape your project, or shape your scholarship in general?
The fellowship period was an invaluable opportunity to exclusively focus on this research. The transcripts from these digitally recorded interviews provided the primary source material for developing a comparative thematic framework to analyze works of art emerging from Indigenous and ʻsettler' groups in Hawaiʻi and their continental U.S. diasporas.
Would you share a favorite memory from your time as a UCHI fellow?
I enjoyed the supportive collegial atmosphere and the privilege of being able to listen to work-in-progress, especially from colleagues whose informal talks introduced me to a range of investigative strategies in other fields. Whereas my scholarship is anchored in recorded exchanges with contemporary artists, those sessions likewise conferred a keen appreciation for what could be achieved through sustained archival research.
What are you working on now (or next)?
My research with contemporary Asian American artists is ongoing, including an interest in artists from Hawaiʻi. The scope of my attention has also extended to earlier generations of Asian American modernists from the Hawaiian Islands who traveled to New York and other East Coast cities between the 1930s and 1970s. Their presence in the American art world remains a comparatively understudied subject.
Our theme for UCHI's 20th anniversary year is "The Future of Knowledge." What would you say are some of the challenges facing the future of knowledge? And what do you think is most exciting or promising about the future of knowledge?
The COVID pandemic continues to impact life at every level. In this profoundly disruptive and uncertain time—and especially during the 2020 closure of universities and museums—I was moved by the extraordinary generosity shown by colleagues across the United States and abroad who remained readily available to answer research questions online, and to think through complicated issues together. Our exchanges reinforced the signal importance of maintaining durable communities in the collaborative production of knowledge. Collaboration is scarcely a novel concept, but it certainly takes on new valences as the means to share resources and to sustain one another in today's difficult times.