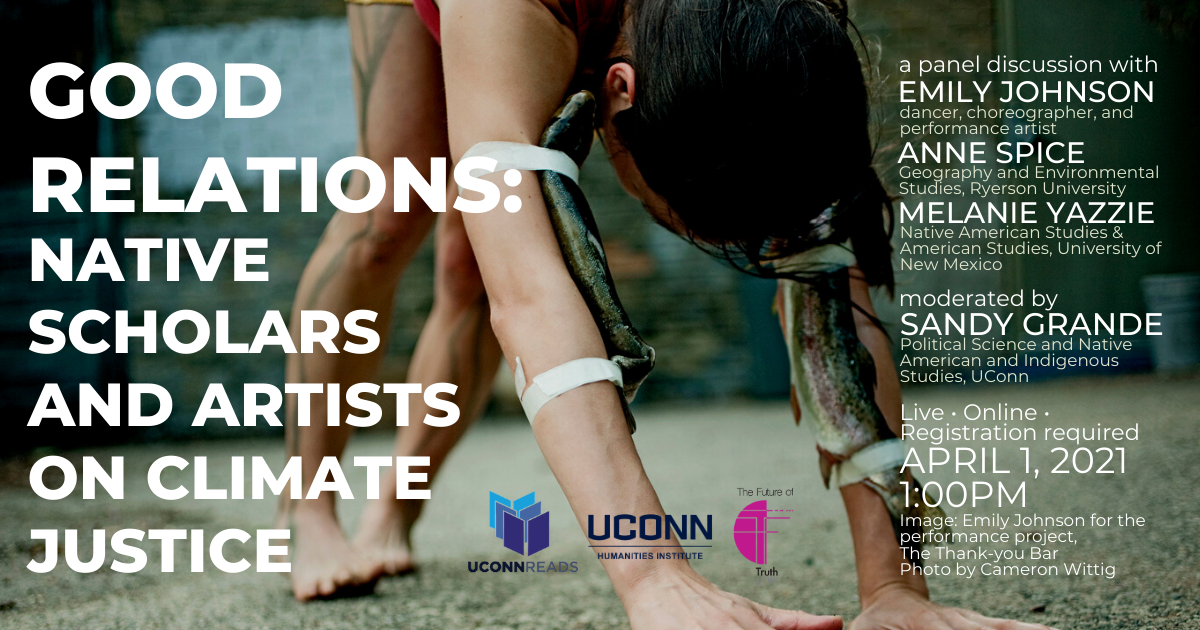 Good Relations: Native Scholars and Artists on Climate Justice
April 1, 2021, 1:00pm. An online panel discussion. Registration required.
Join this panel discussion by Native scholars and artists on climate justice, part of the UConn Reads program which focuses on The Great Derangement: Climate Change and the Unthinkable (University of Chicago, 2016) by Amitav Ghosh.
We don't have a climate crisis. We are experiencing the centuries long consequences of settler colonialism and racial capitalism. Indigenous scholars and artists on this panel discuss the impact of climate change on Indigenous communities, their experiences on the front lines of struggle, and the ways in which their work aims to heighten awareness of the issues. Also, in a time when the dominant patterns of belief and practice are being widely recognized as integrally related to the interconnected crises of our time, they center Indigenous knowledges as competing, legitimate and vital ways of living in good relation.
---
The panel is organized by Sandy Grande (Professor of Political Science and Native American and Indigenous Studies, University of Connecticut), who'll be moderating. Also affiliated with American Studies, Philosophy, and the Race, Ethnicity and Politics program, Grande is the author of Red Pedagogy: Native American Social and Political Thought and numerous book chapters and articles. She is also a founding member of New York Stands for Standing Rock, a group of scholars and activists that forwards the aims of Native American and Indigenous sovereignty and resurgence.
The Panelists
Emily Johnson is an artist who makes body-based work. She is a land and water protector and an activist for justice, sovereignty, and well-being. A Bessie Award-winning choreographer, Guggenheim Fellow, and recipient of the Doris Duke Artist Award, she is based in Lenapehoking / New York City. Emily is of the Yup'ik Nation, and since 1998 has created work that considers the experience of sensing and seeing performance. Her dances function as portals and care processions, they engage audienceship within and through space, time, and environment- interacting with a place's architecture, peoples, history and role in building futures. Emily is trying to make a world where performance is part of life; where performance is an integral connection to each other, our environment, our stories, our past, present and future. Emily hosts monthly ceremonial fires on Mannahatta in partnership with Abrons Arts Center and Karyn Recollet. She was a co-compiler of the document, Creating New Futures: Guidelines for Ethics and Equity in the Performing Arts and is part of an advisory group, with Reuben Roqueni, Ed Bourgeois, Lori Pourier, Ronee Penoi, and Vallejo Gantner developing a First Nations Performing Arts Network.
Anne Spice is Acting Assistant Professor of Geography and Environmental Studies at Ryerson University. Spice is a Tlingit member of Kwanlin Dun First Nation, a queer Indigenous feminist and anti-colonial organizer, and a PhD candidate in anthropology at the CUNY Graduate Center. Her work is in the tradition of feminist activist ethnography, and supports Indigenous land defense against settler state and extractive industry invasion. Her writing has been published in Environment and Society, Jacobin, The New Inquiry, and Asparagus Magazine.
Melanie K. Yazzie (Diné), Assistant Professor of Native American Studies & American Studies at the University of New Mexico, is bilagaana born for Ma'iideeshgiizhinii (Coyote Pass Clan). She has published articles and book reviews in Environment & Society, Wicazo Sa Review, Studies in American Indian Literature, American Indian Quarterly, Social Text, Decolonization: Indigeneity, Education, and Society (DIES), and American Quarterly.
Registration is required for the event.
If you require accommodation to attend this event, please contact us at uchi@uconn.edu or by phone (860) 486-9057.
Watch now: