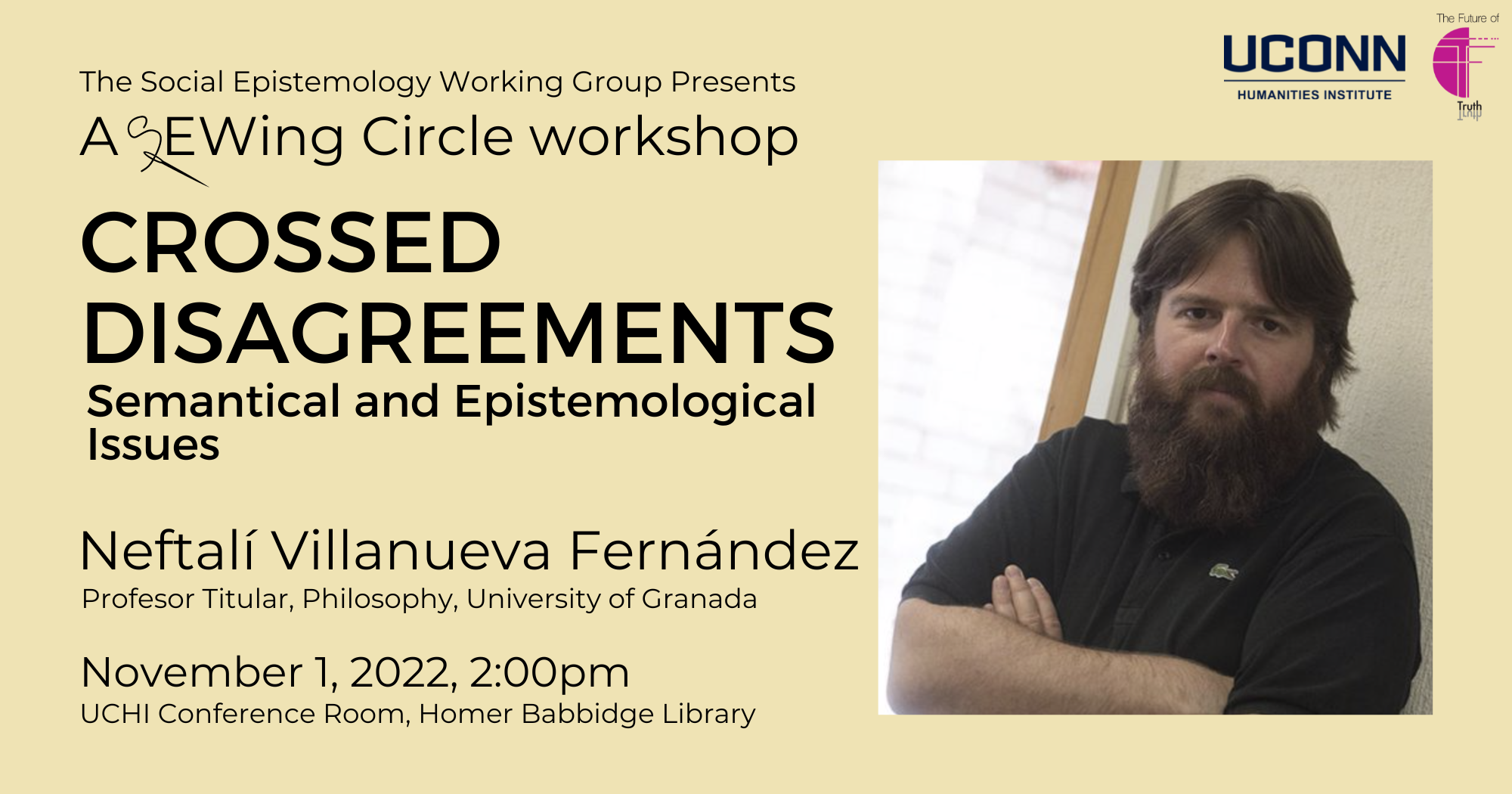 If you require accommodation to attend this event, please contact us at uchi@uconn.edu or by phone (860) 486-9057. We can request ASL interpreting, computer-assisted real time transcription, and other accommodations offered by the Center for Students with Disabilities.
The Social Epistemology Working Group presents:
A SEWing Circle Workshop
Crossed Disagreements: Semantical and Epistemological Issues
Neftalí Villanueva Fernández
November 1, 2022, 2:00pm
Homer Babbidge Library, Humanities Institute Conference Room
This event will also be livestreamed with automated captioning. Register to attend virtually.
Crossed disagreements are instances of public discourse where the parties involved give clear signs of conceiving the debate under different lights. One might be thinking of the dispute in factual terms, for example, while the other might be taking the dispute to be one of a normative nature. An overwhelming presence of these disagreements can be linked to the rise of polarization. Because of its connection with polarization, they can be identified as forms of political propaganda. The purpose of this talk is to reflect on two different questions: 1. Do crossed disagreements stand in the way of knowledge? 2. What kind of restrictions do crossed disagreements impose on a theory of meaning? We will also dwell on the connection between epistemological and semantical issues, both with respect to the past literature on disagreement, and the future research on the topic. We will argue for a "promiscuous" approach, one in which epistemological and semantical questions remain intertwined.
Neftalí Villanueva is Profesor Titular and Head of the Department of Philosophy I at the University of Granada in Spain. Most of his work focuses on applying the philosophy of language to classical questions in the history of philosophy and to political and social problems. He is currently Principal Investigator on three separate research projects on polarization and disagreement: "Contemporary Expressivisms and the Indispensability of the Normative Vocabulary: Scope and Limits of the Expressivist Hypothesis," "Public Disagreements, Affective Polarization and Immigration in Andalusia," and "Offensive language, Inverse Planning, and the 'Abstract/Concrete' Dissonance: New Proxies to Measure Affective Polarization."