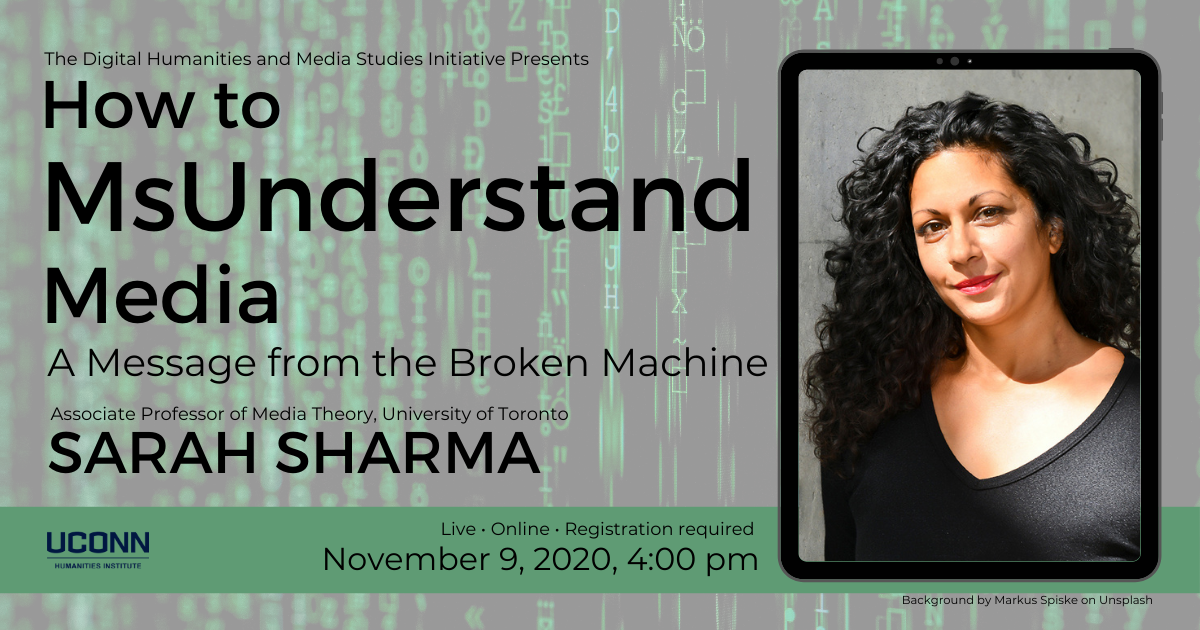 If you require accommodation to attend this event, please contact us at uchi@uconn.edu or by phone (860) 486-9057.
The Digital Humanities and Media Studies Initiative presents:
How to MsUnderstand Media: A Message from the Broken Machine
Sarah Sharma (Associate Professor of Media Theory, University of Toronto)
November 9, 4:00–5:00pm
An online webinar. Registration is required for attendance.
Sarah Sharma is Director of the McLuhan Centre for Culture and Technology at the University of Toronto and Associate Professor of Media Theory at the ICCIT/Faculty of Information. Her research and teaching focuses on the relationship between technology, time and labour with a specific focus on issues related to gender, race, and class. She is the author of In the Meantime: Temporality and Cultural Politics (Duke UP, 2014). Sarah is currently at work on two projects that take up McLuhan's media theory for feminist ends. The first is a monograph tentatively titled Broken Machine Feminism which explores the relationship between technology and patriarchal cultures of exit. This project argues for the necessity of a feminist techno-determinist stance in order to address contemporary power dynamics as they intersect with the technological. The second is an edited book collection, MsUnderstanding Media: A Feminist Medium is the Message (with Rianka Singh), which offers a feminist retrieval of McLuhan's famous adage that the medium is the message.
This talk will outline Sarah's work on a feminist approach to McLuhan and her argument for the new possibilities of a feminist techno-determinism.