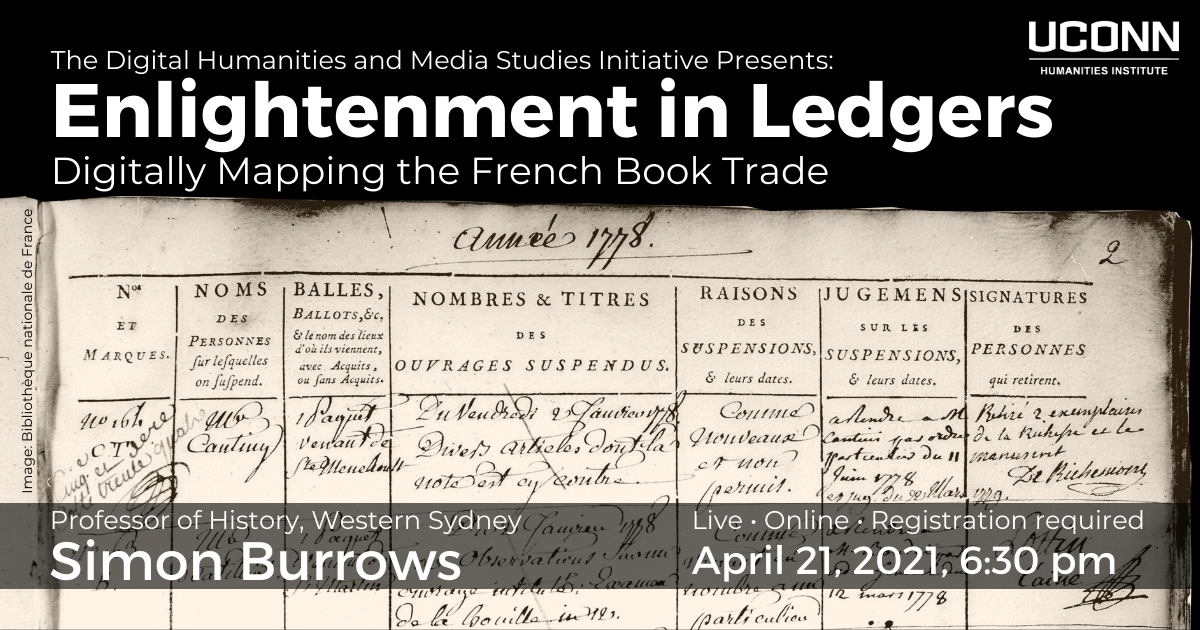 If you require accommodation to attend this event, please contact us at uchi@uconn.edu or by phone (860) 486-9057.
The Digital Humanities and Media Studies Initiative presents:
Enlightenment in Ledgers: Digitally Mapping the French Book Trade
Simon Burrows (Professor of History, Western Sydney University)
April 21, 2021, 6:30–8:00pm
An online webinar. Registration is required for attendance.
It is now 50 years since Robert Darnton issued his clarion call for literary and cultural historians to look beyond the canon and Pierre Bourdieu unveiled his vision of the 'literary field' as an outcome of political and cultural power relations. Historians, not least Darnton himself, have responded creatively to the twin challenges, in the process contributing to the development of a vibrant new interdisciplinary field, book history. Yet determining the cultural resonance of texts or uncovering the real-world impact of political interventions presents major methodological and practical difficulties. Where are we to look for our evidence and how can we gain representative insights? One major tool for this research is historical bibliometric evidence of the circulation of books—including those outside the canon and even lost to the historical or bibliographic record. The sources for such work are multiple and lend themselves to digital analysis, but they also present daunting challenges of interpretation, comparison, and collation. This paper discusses one attempt to confront these challenges, by bringing together book trade, customs, and licensing evidence from old regime France in an industrial level survey of the dissemination of books. It will discuss sources, data processing, and digital methods and platforms used in the French Book Trade in Enlightenment Europe, before assessing how far digital analysis revises our understandings of the 'literary field', including the efficacy of the French book police, the reception of enlightenment texts, popular religiosity, or even how the French paper industry helped shape literary production on the eve of the revolution of 1789. The paper will also discuss future prospects and challenges for historical bibliometric research.
Simon Burrows is Professor of History at Western Sydney University, Australia, where he leads the Digital Humanities Research Initiative and is known for his innovative work on French exiles and the publishing trade from the enlightenment to the French revolution. He is Principal Investigator of the French Book Trade in Enlightenment Europe (FBTEE) database project, which has been funded successively by the British Arts and Humanities Research Council, Western Sydney University, and the Australian Research Council. The FBTEE project was awarded the British Society for Eighteenth-Century Studies Digital Resource Prize in 2017. Simon is also overseeing digital development on the AHRC's 'Libraries, Communities, and Cultural Formation' project, an international initiative based at the University of Liverpool and was co-founder and founding Director of the Centre for the Comparative History of Print at the University of Leeds. He has published four monographs including French Exile Journalism and European Politics, 1792-1814 (2000), Blackmail, Scandal and Revolution (2006), and co-edited major essay collections on subjects as diverse as the eighteenth-century press, cultural transfers, and the cross-dressing French diplomat Charles d'Eon de Beaumont. His most recent major works are The French Book Trade in Enlightenment Europe II: Enlightenment Bestsellers (Bloomsbury, 2018), and co-editor with Glenn Roe of Digitizing Enlightenment: Digital Humanities and the Transformation of Eighteenth-Century Studies (Oxford Studies in Enlightenment, 2020).
Watch now: