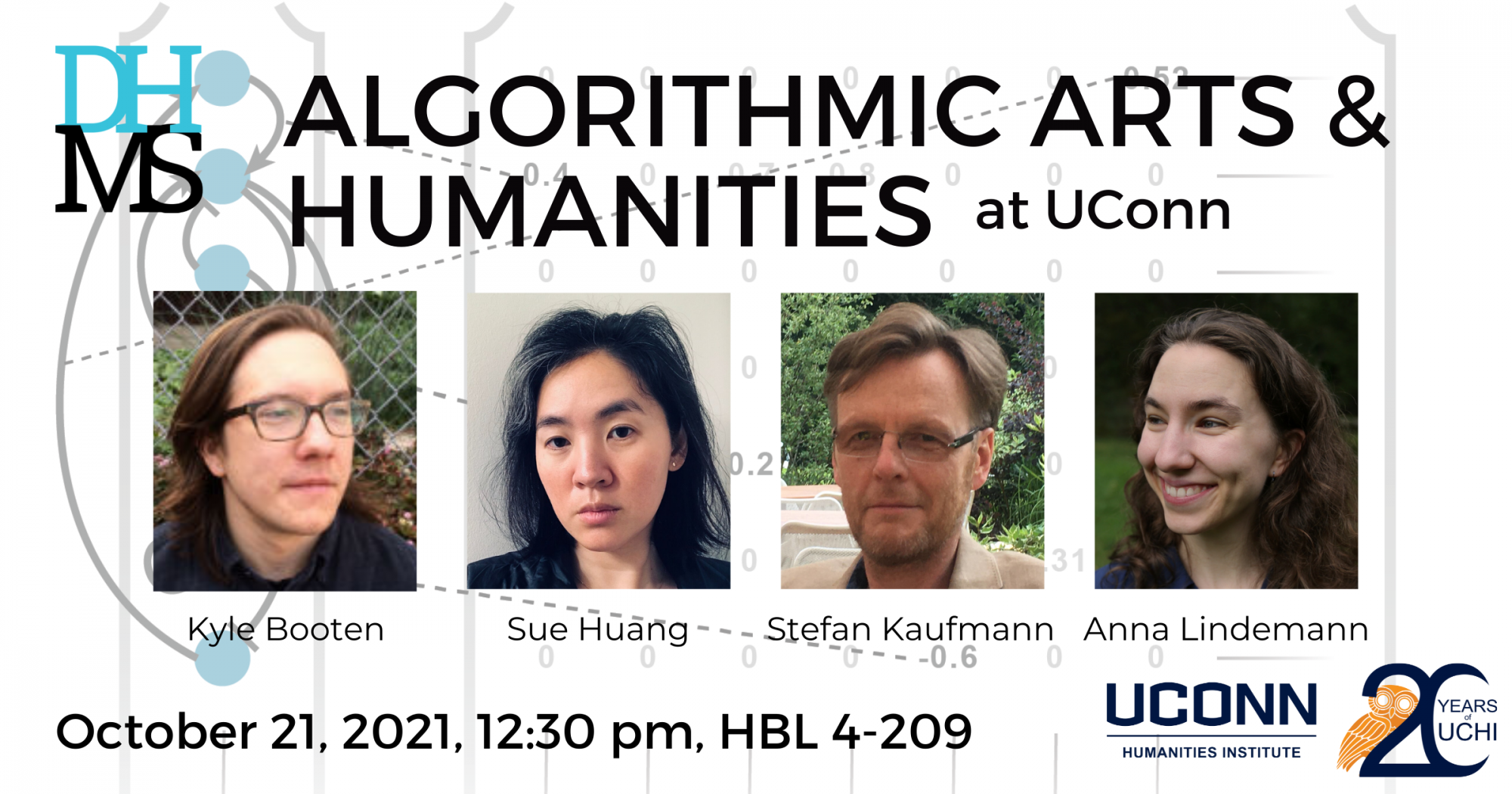 If you require accommodation to attend this event, please contact us at uchi@uconn.edu or by phone (860) 486-9057. We can request ASL interpreting, computer-assisted real time transcription, and other accommodations offered by the Center for Students with Disabilities.
The Digital Humanities and Media Studies Initiative presents:
Algorithmic Arts and Humanities at UConn
Kyle Booten, Sue Huang, Stefan Kaufmann, and Anna Lindemann
October 21, 2021, 12:30–2:00pm
Homer Babbidge Library, 4-209
Add to Google calendar Add to Office 365 calendar Add to other calendar
This event will also be livestreamed with automated captioning. Register to attend virtually.
"Algorithmic Arts & Humanities" will feature presentations by four faculty members from various disciplines at UConn. Their innovative artworks, research, and scholarship draw on computational methods, and range from those incorporating natural language processing and machine learning to generative musical composition.
Kyle Booten is an assistant professor in the Department of English at the University of Connecticut, Storrs. Previously he was a postdoctoral fellow in the Neukom Institute for Computational Science at Dartmouth College. His research on computer-mediated writing has recently appeared in electronic book review, Proceedings of the International Conference on Computational Creativity, and Proceedings of the Electronic Literature Organization Conference and Media Festival. His computer-mediated and -generated poetic work has appeared in venues such as Boston Review, Lana Turner, Taper, and Fence. In Fall 2020, he was poet-in-residence at Nokturno.fi.
Sue Huang is a new media artist whose work addresses collective experience. Her current projects explore ecological intimacies, human/nonhuman relations, and speculative futures. Huang has exhibited nationally and internationally, including at the Museum of Contemporary Art (MOCA), Los Angeles; the Contemporary Arts Center (CAC) in Cincinnati; Philadelphia Contemporary; Rhizome at the New Museum in New York; and Ars Electronica in Linz, Austria. Huang has received grants and commissions from Rhizome, the A.R.T. (the Berkshire Taconic Community Foundation), the James Irvine Foundation (MOCA, Los Angeles), Creative Scotland (NEoN), and the SCHARP Development Award (UCHI), among others. She received her MFA in Media Arts at the University of California, Los Angeles (UCLA) and her BS in Science, Technology, and International Affairs from the Walsh School of Foreign Service at Georgetown University. Huang is currently a second-year member of the Creative Science track at NEW INC, supported by Science Sandbox (Simons Foundation). She is an assistant professor of Digital Media Design at the University of Connecticut.
Stefan Kaufmann is Associate Professor in the Department of Linguistics at the University of Connecticut. His main research interests lie in the area of semantics, pragmatics, and computational linguistics. For more information visit his website.
Anna Lindemann calls herself an Evo Devo artist. Her work combines animation, music, video, and performance to explore the emerging field of Evolutionary Developmental Biology (Evo Devo). Her work seeks to uncover narratives within rigorous scientific research, to visualize biological processes in novel ways, to define new artistic creative processes modeled on biological processes, and to examine the human emotion and subjectivity behind scientific research. Her Evo Devo Art, including the animated short Beetle Bluffs and the art-science performance Theory of Flight, has been featured nationally and internationally at black box theaters, planetariums, galleries, concert halls, biology conferences, film festivals, digital art conferences, and natural history museums. Anna graduated from Yale with a BS in Biology before receiving an MFA in Integrated Electronic Arts from Rensselaer Polytechnic Institute. She is an Assistant Professor in the department of Digital Media & Design at UConn where she has pioneered courses integrating art and science. www.annalindemann.com