In celebration of 20 years of UCHI and as part of our ongoing You Should… series, we've asked former fellows and other friends of the Institute to recommend something related to their work or process. Read them all here.
UConn Professor Jeffrey O.G. Ogbar's playlist for the exhibition Facing History: Social Commentary in Contemporary American Art, on view at the William Benton Museum of Art through March 11, 2022. The show presents work by artists who confront the legacies of past injustices and underscore the enduring impacts of American history on contemporary society. The playlist pairs specific works of art in the exhibition with songs from the 1960s to the present. For example, Ogbar juxtaposes And One (2011) by artist Hank Willis Thomas—a jarring image where the culture of lynching and the commodification around professional sports collide—with Childish Gambino's "This is America"—a track that provocatively interrogates race and violence in American culture. Or, he asks us to consider how jazz singer and civil rights activist Nina Simone's "Four Women" informs our experience of A Means to An End… A Shadow Drama in Five Acts (1995) by visual artist Kara Walker, and vice-versa. Listen to the playlist on Spotify or in the exhibition at The Benton.
– Amanda Douberley
Assistant Curator/Academic Liaison
The William Benton Museum of Art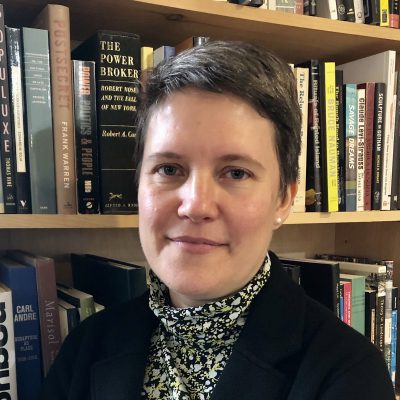 Who is Amanda Douberley? Amanda Douberley is Assistant Curator/Academic Liaison at the William Benton Museum of Art, where she is responsible for connecting the Benton's collections and exhibitions with teaching in departments across the university. She has curated numerous exhibitions at the museum, often in collaboration with faculty and other campus partners. Amanda holds a Ph.D. from the University of Texas at Austin with a focus on 20th-century American sculpture and public art. Before coming to UConn in 2018, she taught in the Department of Art History, Theory, and Criticism at the School of the Art Institute of Chicago.
---