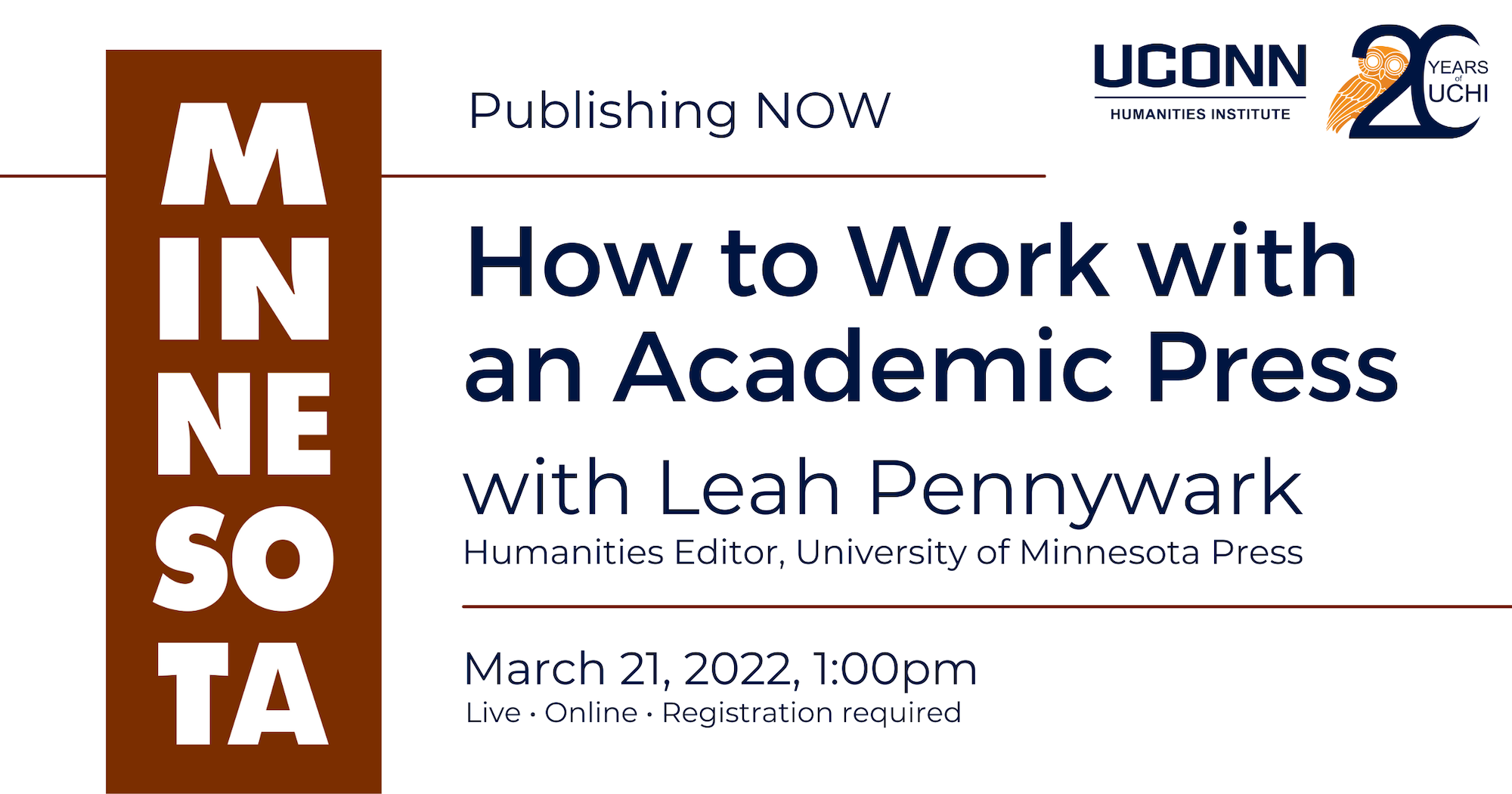 Publishing NOW
How to Work with an Academic Press
Leah Pennywark (Humanities Editor, University of Minnesota Press)
March 21, 2022, 1:00pm
Live • Online • Registration required.
Leah Pennywark, Humanities Editor at the University of Minnesota Press, will offer tips and insights for working with an academic press. She is also offering virtual half-hour-long one-on-one meetings for prospective authors on March 22. These appointments are for UConn-afiliated faculty only. Interested parties should sign up for an appointment via Calendly.
Leah Pennywark is Humanities Editor at the University of Minnesota Press where she acquires in a wide range of disciplines, including American studies, cultural studies, literary criticism, and cinema and media studies. Her interests include gender and sexuality, race and ethnicity, and emerging cultural formations. She is passionate about argument-driven work that is politically and culturally engaged. Before joining the University of Minnesota Press, Pennywark served as assistant editor at Stanford University Press, where she focused on political science, international relations, security studies, and Middle East studies. Prior to that, she served as acquisitions assistant at Purdue University Press, where she completed a PhD in American literature. She has an MA in literature from the University of Rochester and a BA in English from Rice University.
ACCESS NOTE
This event will offer automated captioning. If you require accommodation to attend this event, please contact us at uchi@uconn.edu or by phone (860) 486-9057. We can request ASL interpreting, computer-assisted real time transcription, and other accommodations offered by the Center for Students with Disabilities.
---