As part of our 20th anniversary celebrations, we've checked in with former fellows to gather reflections on their fellowship years, to get an update on their fellowship projects, and to see what they are working on next. Read them all here.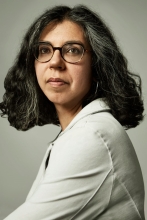 2010–11 Dissertation Research Scholar Asha Bhandary is Associate Professor of Philosophy at the University of Iowa. She is a political philosopher and feminist ethicist whose work incorporates the human need for dependency care at the level of the foundational assumptions, premises and concepts in the liberal tradition. In her published work, which includes her monograph, Freedom to Care: Liberalism, Dependency Care, and Culture (Routledge) she advances a theory of distributive justice for caregiving arrangements that is structured by the liberal values of autonomy and transparency. It defends the importance of an abstract understanding of caregiving arrangements with her concept the "arrow of care map" as a way of tracking distributive inequalities by categories including race, gender, ethnicity, class status.
---
What was your fellowship project about? Would you give us an update on the project?
As the CLAS Dean's graduate fellow at UCHI, I was working on my dissertation, which then became my first book, Freedom to Care: Liberalism, Dependency Care, and Culture (Routledge, 2020). The book was the subject of an author-meets-critics session at the 2020 Central APA, a journal symposium in the Critical Review for International Social and Political Philosophy, and several lectures at academic conferences as well as bookstores, including the internationally renowned series Live from Prairie Lights. What I developed during my fellowship year was really one of the cornerstones of the book's argument. I established that care has to be included as one of the circumstances of justice, working within a framework of liberal political theory. I showed that care has the same or greater value than the other things that are included as circumstances of justice—protection from attack, income and wealth—thereby demonstrating that care is one of these foundational needs. In doing so, I united the existing care ethical literature, which asserts the value of care, with the literature in liberalism that establishes the idea of distributive justice as a system of fair cooperation for everyone.
This cornerstone later became an article that was published in the Journal of Philosophical Research, with a response by Jan Narveson, a well-known libertarian, and with my response to him. It was that variety of interlocutor I had in mind when I developed that argument—someone who doesn't necessarily believe that care should be included in our accounts of what is most fundamental to society in our accounts of justice—the person who thinks that maybe care is a private concern, or that it's properly the domain of women, or that it just occurs naturally—I was arguing against them.
I continued to develop this project, and to write the book as an assistant professor. The result, my monograph, Freedom to Care, sets forth a new form of liberalism that is an anti-oppression liberalism that incorporates care as well as the facts of group-based oppression into the justificatory structure of liberalism. This form of justification acknowledges that what theorists know is going to be informed by what real people in the world assert as valuable. But, when we're trying to decide on the parameters for a fair system of social practices, we cannot solely rely on what people assert in our actual conversations. We also need to engage in the kind of abstract theoretical exercise that is the philosopher's expertise, which creates the possibility of a "metalucidity" (that is Jose Medina's term to characterize the ability to understand the norms that structure the world around us) about how our assumptions are informed by existing inequalities. To get distance from those existing inequalities, I use a version of John Rawls' idea of the original position as a modeling device.
How did your fellowship year shape your project, or shape your scholarship in general?
Last month, I completed a semester as a Fellow-in-Residence at a similar research institute at the University of Iowa called the Obermann Center. And my experience at the Humanities Institute at UConn definitely contributed to my interest in applying for that fellowship. At both Institutes, I found that I was in dialogue with other people who genuinely care about their scholarship—who are deeply immersed in it, and engaged in a specific academic debate but who are also interested in discussing it with people outside that debate. As a graduate fellow at UCHI, it was wonderful to be a member of that kind of community as a graduate student. I was one of, I think, two graduate students in our cohort, and then the rest of the fellows were faculty. When you're in a position like that, you learn so much by absorbing how other people are going about their projects. In terms of how it shaped my scholarship, being part of that interdisciplinary group of scholars helped me learn to articulate my work in a language that is understandable to people who aren't just at the interior of the debate. For philosophers, that's really important because it helps us test whether what we're doing matters. Being able to talk about your work in more general terms applies pressure to the ideas, because you have to think about what other people are talking about and what they value and how to translate the work that you're doing into language that's going to make sense to people from a wide variety of backgrounds. Of course, this is always a huge challenge for academics, because we're working in highly specialized areas, within which we're contributing to specialized debates. Moving back and forth between that specialized debate, where we're making a really specific refinement in a concept, and then talking about the work more broadly is difficult. I think that being a fellow at the Humanities Institute helped me begin to gain this skill at a very early stage of my career.
Would you share a favorite memory from your time as a UCHI fellow?
Again, the context for this is that as a graduate student, I was very early in my career. I remember an interaction with one of the senior scholars that led me to conclude that she was totally Boss. In a conversation during her office hours, she told me that that if she had to leave her writing for household responsibilities, (maybe she had a baby, I don't quite remember) she would wait until her writing reached a logical stopping point, and her husband just had to wait. Those insights about how female intellectuals manage micro-interactions are incredibly valuable early in one's career.
What are you working on now (or next)?
I just published a co-edited volume called Caring for Liberalism (Routledge 2021) and I'm going to be speaking at a panel related to it at the Pacific APA in Vancouver this April. I'm also working on a response to critics for another symposium on Freedom to Care, which will be in the journal Dialogue: The Canadian Philosophical Review. This summer, I will be one of the Distinguished Visiting speakers at the NEH Summer Institute Philosophical Perspectives on Giving, Receiving, and Conceiving Care. Right now, my new writing is for an article for the journal philosophies that is connected to my next monograph,
provisionally titled Being at Home: Liberal Autonomy in an Unjust World.
In it, I'm thinking about how to conceptualize autonomy when you begin from the subject position of a woman of color. To do so, I am combining personal narratives with philosophical analysis to yield a plural account of autonomy. Self-sovereignty is one part of autonomy; that's the "this is my domain, don't mess with me," component. Then there's an authenticity component: Who are you really? How can you act in a way that's true to who you really are? In addition, I am also thinking about the way affordances in the world are informed by racialized entitlements, which also brings me into bioethics. This new project is an extension of the theory in my first monograph, where I look at caregiving arrangements and show how our caregiver arrangements are unjust and need to be rectified. The new book will establish a link between thinking from the subject position of a woman of color who asserts full claimant status, to the demands for a just society that includes justice in caregiving arrangements. Because women of color are so often the repository of needs of others, globally, women of color are not granted full claimant status in informal spaces. In interactions when women of color assert full claimant status, we are often met with various forms of resistance—anger, confusion, hostility. This experience of resistance changes how we should think about autonomy because I take seriously that women of color are autonomous.
My research overall, is an ambitious program in political philosophy that evaluates the nature of entitlements, distributive justice, freedom, and autonomy in a way that is informed by through feminist and anti-racist philosophy. In Being at Home, I continue that project by drilling down into the concept of autonomy and then also looking at the way that we're autonomous in the world as it is—in a nonideal world—where part of what everyone wants is to achieve a state of "being at home" in the world. An explication of this state of being at home is something I developed in chapter nine of Freedom to Care. It's a state of affairs where you have access to your valued relationships and you have access to other essential goods. In the new book, I'm looking at the relationship between being at home and autonomy, which occurs against the backdrop of our society.
Our theme for UCHI's 20th anniversary year is "The Future of Knowledge." What would you say are some of the challenges facing the future of knowledge? And what do you think is most exciting or promising about the future of knowledge?
People's social media habits create challenges for our habits of mind—in particular, for our ability to think independently and clearly and to maintain habits of mind that allow for intensive concentration. And this is a challenge that I think about for myself, as a professor, as a mother with two children, a teenager and a seven-year-old. I strive to protect my kids' brains for sustained concentration that is not interrupted or filled in by the thoughts of others. We do that by limiting their access to technology more substantially than most people. However, on the other side of the equation about the goods of technology in relation to knowledge, is that social media platforms have upended gatekeeping practices in ways that are really exciting. For instance, in popular culture, there is so much more diversity in the voices that we can have access to—that we can read and listen to and watch. That this transition happened as rapidly as it did was because of technology and social media.
---