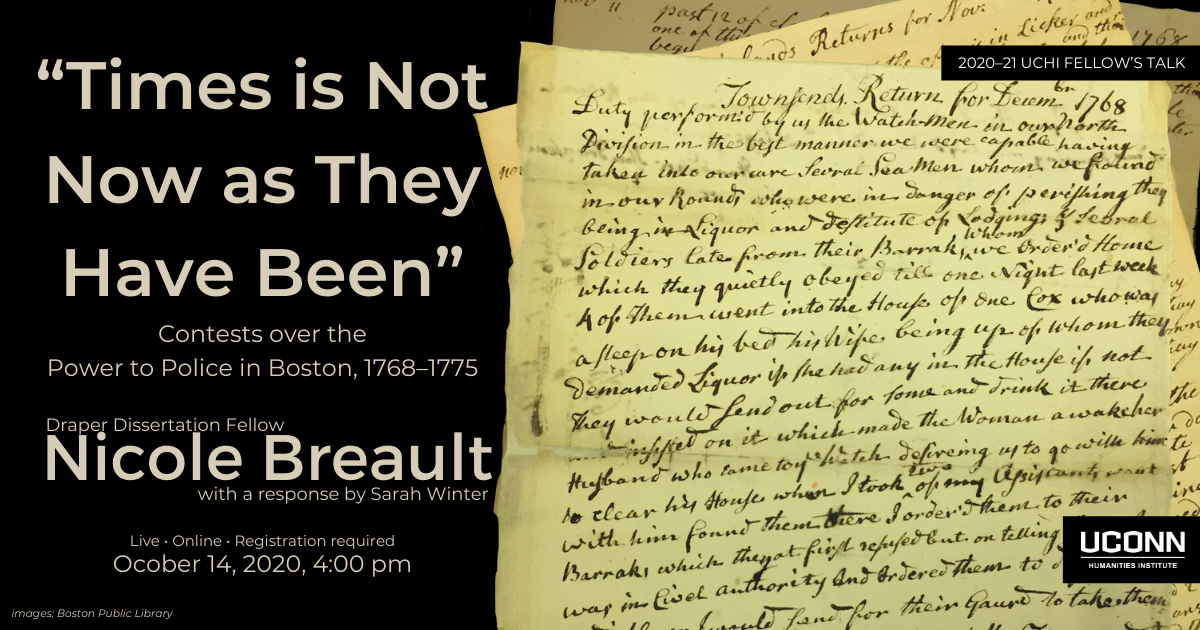 "Times is Not Now as They Have Been": Contests over the Power to Police in Boston, 1768–1775
Nicole Breault (Ph.D. Candidate, History)
with a response by Sarah Winter (Professor of English)
Wednesday, October 14, 2020, 4:00pm (Online—Register here)
In the fall and winter of 1768, the arrival of four regiments in Boston sparked questions over jurisdiction in the town. Exchanges between watchmen and officers and soldiers threatened the authority of local institutions and quickly escalated to violence. This talk considers a series of violent and verbal altercations between Boston's town watch and members of the King's forces, framing the encounters as a dialogue over the power to police. Centered on the reports, complaints, and depositions written by the town watch, it asks how night constables and watchmen used these incidents to negotiate jurisdictional gray areas in the first months of occupation and to participate in a larger contest of empire.
Nicole Breault is a fifth-year doctoral candidate in the Department of History. Her research interests are in early American legal and social history with an emphasis on urban governance, institutions, gender, and space. She earned a B.A. from the University of Vermont and an M.A. from the University of Massachusetts Boston. Her research has been awarded fellowships at the Massachusetts Historical Society, New England Regional Fellowship Consortium, the Boston Athenæum, and the Huntington Library, as well as a Littleton-Griswold Grant by the American Historical Association. Currently, Nicole is the Draper Dissertation Fellow at the UConn Humanities Institute working on her dissertation "The Night Watch of Boston: Law and Governance in Eighteenth-Century British America."
Sarah Winter is Professor of English and Comparative Literary and Cultural Studies at the University of Connecticut, Storrs and Director of the Research Program on Humanitarianism at the UConn Human Rights Institute. An interdisciplinary scholar of British literature of the long nineteenth century and the history of the modern disciplines, she has published most recently a co-edited collection, From Political Economy to Economics through Nineteenth-Century Literature: Reclaiming the Social (2019). Her previous books are The Pleasures of Memory: Learning to Read with Charles Dickens (2010) and  Freud and the Institution of Psychoanalytic Knowledge (1999). Her articles have appeared in journals such as Victorian Studies,  NOVEL, and  Representations, and she has contributed chapters to a wide range of edited collections on law and literature, the history of legal and political thought, and human rights and literature.
Registration is required for the event.
If you require accommodation to attend this event, please contact us at uchi@uconn.edu or by phone (860) 486-9057.