There is only so much Netflix and Hulu one can watch and replaying Contagion and Outbreak are not the best antidote for COVID-19's many anxieties. I suggest you find refuge in an audio-version of Feel Free, Zadie Smith's 2018 eclectic and wide-ranging collection of essays. Banish all thought of the staid five-paragraph essays of undergraduate habitude; this collection will whisk you back to what the essay form was meant to do originally—reflect and be relevant. Even if you have not discovered White Teeth or On Beauty, you'll get a crash course in Smith's literary evolution from an awe-struck young writer to a mature, reflective artist. Feel Free will surprise and delight, offering ruminations on freedom, multiculturalism, aesthetics, art, dance, fiction, domesticity, middle class dreams of the British sort, optimism, family, individuality, social media, race, and narcissism. In a curious juxtaposition of characters, you'll discover low-brow and high-brow culture, ways of seeing, ways of being, and the gulf between husbands and wives and parents and children. Where else will you find Martha Graham and John Berger; Philip Roth and Balthasar Denney; Keegan-Michael Key, Jordan Peele, Vladimir Nabokov and Jay-Z; and the single-monikered Prince, Madonna, and Beyoncé?  In one of the most brilliant pieces, a bathroom becomes a lucid symbol of a father's thwarted dream, a mother's exile, and the sacrifices that permit their children to cross social, racial, geographic, and economic boundaries. Since you can't have this conversation with Zadie Smith in person, listening to Feel Free is the next best option!
– Fiona Vernal
Associate Professor of History
University of Connecticut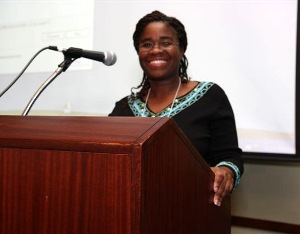 Who is Fiona Vernal? Fiona Vernal is a native of Trelawny, Jamaica and grew up in Trenton, New Jersey. She earned her MA and PhD from Yale. Since 2005 she has taught at the University of Connecticut's Department of History. Her book, The Farmerfield Mission (Oxford, 2012) explores the relationship between African Christian converts, European missionaries, and the politics of land access, land alienation and the "civilizing" mission of African social and economic improvement in nineteenth century South Africa. She consults with the Connecticut Historical Society on oral history projects including an exhibit documenting and recording the impact of 9/11 on Connecticut victims, families, and first responders.
---