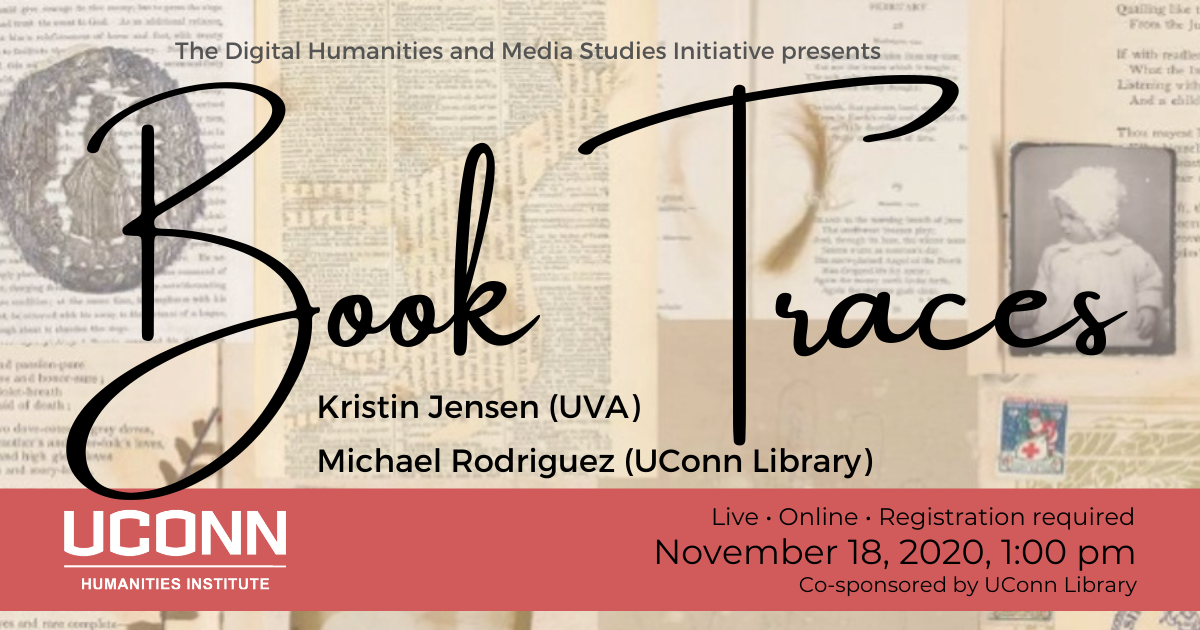 If you require accommodation to attend this event, please contact us at uchi@uconn.edu or by phone (860) 486-9057.
The Digital Humanities and Media Studies Initiative presents:
Book Traces
Kristin Jensen (UVA) and Michael Rodriguez (UConn Library)
November 18, 2020, 1:00–2:00pm
An online webinar. Registration is required for attendance.
Books are not just containers of information: they are also physical artifacts, and they bear traces of the hands they have passed through over time. Many of the nineteenth- and early twentieth-century books in college collections had a life outside the library before they were donated: they may have been exchanged between friends and lovers, carried along to war, filled with idle doodling, or used as a place to record tender memories of lost loved ones. The Book Traces project is an effort to discover these uniquely modified volumes in library collections and advocate for their importance as artifacts of the history of readers' relationships with their books, and with each other. Kristin Jensen, project manager for Book Traces based at the University of Virginia, will speak about "finding cool stuff in old books" at a time when American college libraries are turning towards mass digitization, shared print consortia, and efforts to manage down the size of print collections. Michael Rodriguez will speak to the UConn Library's participation in Book Traces, share intriguing examples of marginalia discovered in our collections, and situate Book Traces in a larger context of library collections and strategies.
Co-sponsored by UConn Library.
Based at the University of Virginia Library, Kristin Jensen is the project manager for Book Traces and is currently, along with Prof. Andrew Stauffer, co-directing a planning grant from the Mellon Foundation. Before joining the UVA Library staff, Kristin worked as a project manager at Performant Software Solutions in Charlottesville, Virginia, where she specialized in steering digital humanities projects through the software development process. She has also worked at the University of Virginia's Morris Law Library, NINES, and the former Electronic Text Center. Kristin holds a Ph.D. in English from the University of Virginia with a concentration in eighteenth-century British literature.
Michael Rodriguez is Collections Strategist at the UConn Library, where he coordinates collection development and strategic initiatives, including the Library's participation in Book Traces. Michael publishes and presents widely in library venues and serves as past president of the Association of College and Research Libraries, New England Chapter. He holds an M.S. in library and information studies from Florida State University.
Watch now: